Announcing the new sponsorship arrangement Philip Smith, RSA Ireland Chief Executive commented:"we were delighted to have been associated with Cricket Ireland and the National cricket teams over the past season. Now, following progressive discussions, we are happy to extend our relationship for a further three years".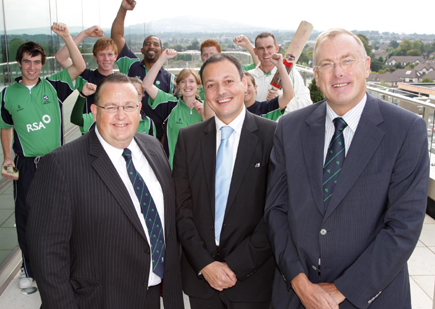 "Cricket Ireland and the National Cricket teams have, in recent years, demonstrated their ambition and potential and their participation in major tournaments and feature matches against some of the leading cricketing countries is now the norm. In 2007 the senior national team squad captured the nation's attention with their stunning performance in the Cricket World Cup.  In 2008, the success story has continued and includes being crowned European Champions and qualifying for next year's ICC World Twenty20 tournament in England. The Senior Men's team results have been supported by strong performances by all national teams".
Philip also noted that,: "Apart from team results – the success is due in no small measure to the strategic direction and professional structures being developed and implemented by Cricket Ireland. We are a major business in the Irish market and Cricket Ireland's aspiration and commitment sits very comfortably with our own brand and business development objectives".  
Warren Deutrom, Cricket Ireland, Chief Executive said: "We are delighted to cement our partnership with such a high-profile brand as RSA for a further three years, up to, and beyond what we hope will be Ireland's participation in the 2011 World Cup in Asia.
"This is a tangible vote of confidence not just in what our talented players have achieved on the pitch, but what the management and Board of Cricket Ireland have begun to create off it, which is a new company confidently embracing change and the challenges of a competitive cricketing environment.
"With competitive fixtures against England in 2009, 2011 and 2013, against Australia in 2010, a partnership with Jamaican Cricket and participation in the ICC World Twenty20 Cup in England next year, we are confident that we will help RSA see a quick return on their investment, an investment which will help Irish cricketers at all levels to achieve excellence and enjoy playing the world's second biggest sport."
"Cricket Ireland is also grateful to Genesis for their  expertise in helping to create our exciting new commercial  programme, for helping us shape an attractive package of benefits for RSA and  for delivering them so  professionally."