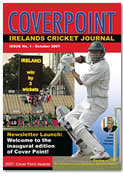 The first free electronic issue (available for download from the website, www.cover-point.com) features an investigation into crickets global finances (revealing a scandal that is threatening Ireland's development), a profile of the Best Cricketer Never to Play for Ireland, an interview with TV3's Aidan Cooney, as well as club features, coaching tips, competitions and results. 
"The success of the Irish cricket team has really boosted interest in the sport," says Cover Point editor, Liam Rooney. "Ireland's doing so well on the field. Off the field it's got problems – it's a minority sport with little money. I thought a new Irish Cricket magazine could help to solve some of those problems, especially the profile problem."
Rooney says the magazine's mission is to assist in the development of cricket throughout Ireland by promoting greater awareness and interest in the game.  The main focus will be on the performance of Irish teams, from senior men's to "A" teams, women's and youth.
"We want to get more supporters to attend Ireland games, home and away," says Rooney. "And we want to get more publicity for events being run by clubs and associations throughout the island."
"Cricket was always a passion for me. I grew up in Newry during the Troubles so playing cricket was not an option…I went to one of those schools where you could play any sport you liked, as long as it was Gaelic football ! But cricket is in the blood. My granduncle, Christy Russell played for Balrothery in the '50s and the Christy Russell Memorial Cup was named in his honour. "
Cover Point is available by subscription either as a hard copy or electronic version.  Subscribers can visit the website (www.cover-point.com) or email editor@cover-point.com or phone 01- 825 4357 for the first free issue.  Annual subscriptions are €23 or £15 (plus P&P for the hard copy version). Individual issues are priced at €3.85 or £2.60 per issue (plus p&p for the hard copy version) with six editions per year.                                                  
For more Cover Point News please log onto www.cover-point.com