Downpatrick Cricket Club was the venue yesterday for the first and second round draws of the 2008 competition. 
The first round to be played on 3 May features next years Section Two sides and the two sides relegated from the Premier League this year, Downpatrick and Lurgan.
First name out of the hat drawn by Kieran Moloney, CEO of TCH Democrat Media was Lurgan with Armagh the opposition.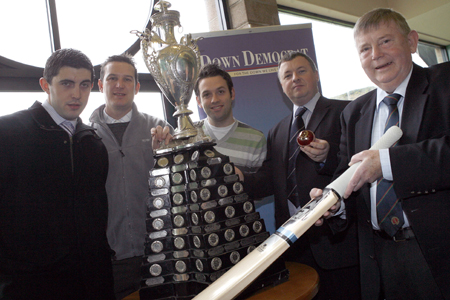 Rodney Hassard who will captain Dundrum next season was smiling at the prospect of a home tie at The Meadow against Holywood:
"The last time the club played in the Challenge Cup was probably before I was born so it is great to be involved and to play at home.  I would be quietly confident that we could give a good account of ourselves against Holywood.  We played them in the league a couple of seasons ago when we had a number of players missing and ran them close."
Rodney was accompanied at the draw by Tommy Curlett now groundsman at The Meadow and he was involved the last time Dundrum played in the Challenge Cup and he admits to giving up playing in 1988.
Holywood's Ryan McMaster who has just recently taken on the role of NCU Public Relations Officer was equally happy but for different reasons:
"I am happy we have an away tie because we do not actually have our own ground available until 10 May, it should be an interesting contest."
Peter Shields captain of TCH Down Democrat Challenge Cup holders North Down was delighted with their second round draw:
"At this stage of the competition it is great to get a home draw we wouldn't ask for any more, now we just have to wait and see if it is Downpatrick or Ballymena we are up against."
Potentially the tie of the second round which will be played on 17 May is the clash between Lisburn and CIYMS.  CI beaten finalists in 2006 as a Section Two side will travel to Wallace Park looking to repeat the success they enjoyed in the semi-final.
Lisburn will be out to avenge that result but you can be assured that CI will not be going into this one as the underdogs.
It is difficult to see this year's beaten finalists Waringstown having too many sleepless nights over the winter at the prospect of a second round tie against either Dunmurry or Woodvale.  Certainly Keith Morrison will have fond memories of the second round this year when he took 7 for 18 including a hat trick as Dunmurry were dismissed for 41.
In the only other all Premier League clash this season's semi-finalists Instonians will have home advantage over Bangor.  When the two met in the league back in June Bangor dismissed Instonians for 76 and still ended up losing by 12 runs, so it will be probably best to turn up early for this one.
Round 1 - May 3rd
Lurgan Vs Armagh
Dunmurry Vs Woodvale
Dundrum Vs Holywood
Laurelvale Vs Cooke Collegians
Saintfield Vs Muckamore
Downpatrick Vs Ballymena
Round 2 - May 17th
Lisburn Vs CIYMS
North Down Vs Downpatrick / Ballymena
Instonians Vs Bangor
Lurgan / Armagh Vs Derriaghy
Dunmurry / Woodvale Vs Waringstown
Laurelvale / Cooke Collegians Vs CSNI
Carrickfergus Vs Saintfield / Muckamore
Dundrum / Holywood Vs Cliftonville
Photo courtesy Jim Masson/Down Democrat