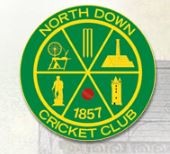 PIETER MALAN inspired North Down to their third O'Neills Ulster Cup triumph with a 10 runs (DLS) triumph over fellow NCU side Instonians at Comber.
The South African professional hit 11 fours and 4 sixes in an unbeaten 98 from 63 balls as North Down posted 233 for 6 in their 40 overs.
Malan's late boundary blitz saw an incredible 73 runs added in the final four overs - he added 59 of those as he tore the previously disciplined Instonians attack to shreds.
Earlier, Danny Graham (43) and Andrew Sutherland (38) provided the perfect platform for the late assault as they added 82 for the first wicket.
Alistair Shields made a breezy 20, but when he, Peter Eakin (0) and Taimur Khan (7) departed in quick succession, it appeared that Instonians would restrict the home side to under 200 - Malan of course had other ideas.
Andrew White (2-37) was the pick of the Shaw's Bridge side bowling attack.
The Instonians reply was almost a complete reverse of the North Down innings, as skipper Neil Russell bludgeoned his way to a typically belligerent 47 from just 28 balls (5 fours, 3 sixes).
His blitzkrieg of boundaries saw Instonians race to 79 for 0 in the 10th over, but the introduction of spinners Jacob Mulder and Martin Moreland was to prove the turning point.
Mulder got the breakthrough, when he caught and bowled Russell at the second attempt, but Instonians continued to be positive and at 102 for 1 after 13 overs, looked in complete control.
However, Andrew White (15) was bowled by skipper Moreland, and in the next over, Mulder got through the defences of Nicolai Smith (36).
Suddenly, with the rain clouds gathering, Instonians seemed unsure of their approach, as the boundaries dried up and they retreated into their shell.
The defining moment was the wicket of professional Iqbal - well caught by Shields off Moreland, which meant they were behind on DL.
Shortly after Iqbal's dismissal, the forecast rain arrived and the players left the field never to return - North Down declared 10 run winners on DLS.
Mulder showed exceptional control taking 2 for 14 in his 7.5 overs, while Moreland had figures of 2 for 28 off 7 - it was a delighted Moreland who accepted the trophy from Cricket Ireland President Dr Murray Power, much to the delight of the assembled home support.
For Instonians it will be a bitter pill to swallow, having seemingly been in control of the contest for the majority of the game. Firstly Malan, then Mulder taking away what would have been their 5th win in the 17 year history of the competition.
O'NEILLS ULSTER CUP FINAL
At Comber,
NORTH DOWN 233/4 (40 overs, P Malan 98*, D Graham 43, A Sutherland 38, A Shields 20, A White 2-37)
INSTONIANS 120/4 (23.5 overs, N Russell 47, N Smith 36, J Mulder 2-14, M Moreland 2-28)
North Down won by 10 runs (DLS)