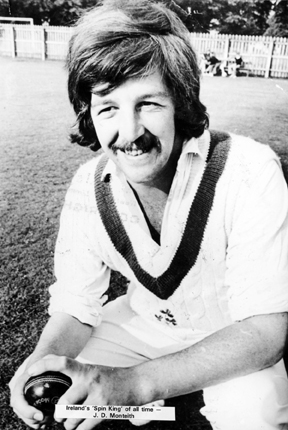 In a glittering career with Ireland he played 76 times, taking an incredible 326 wickets at just 17.37, to top the all-time wicket takers list for his country.
His playing career with Ireland spanned 19 years from his debut in 1965 at Lord's, until his last appearance in 1984 against Scotland. He made an impression in both games, strangely enough with the bat rather than the ball, a testament to his all-round ability. He scored a fine 54 against the MCC at Lord's in that debut game, and made his highest score in Irish colours, 95, in what was to prove his last game for his country. He scored a total of 1712 runs at 20.63, which included nine half centuries.
It was his bowling skills however which dominated his 19 year reign. On no fewer than 27 occasions he took 5 wickets in an innings, and seven times he took 10 wickets in a match. His best figures for Ireland came in 1973 when he took 13 wickets against The MCC at Lord's, including a second innings haul of 8 for 44 as Ireland triumphed by seven wickets.
His ability brought him to the attention of Middlesex whom he played during the 1981 and 1983 seasons, often deputising for John Emburey and Phil Edmonds when they were on England duty. He also toured Africa with the MCC, impressing everyone with his competitive spirit.
He captained Ireland 38 times, and gained a reputation as a fearless skipper, never afraid of taking a chance to force a result.
Former team-mate and current Ireland manager Roy Torrens lead the tributes to Monteith saying: "Dermott was in many ways ahead of his time. He was a trail-blazer in every way. He was an innovative captain, and had no fear of failure. He was always looking to make things happen, and was great to play alongside. He was quite simply a magnificent cricketer, and he was a pioneer in many ways, being one of the first Irishmen in the modern era to make a mark in county cricket. He certainly didn't look out of place amongst the county elite despite being 38 years old when he played his first games for Middlesex."
"He was very highly regarded by his Middlesex colleagues, and on my travels with Ireland, I was often asked by Mike Brearley and John Emburey how he was doing. I probably got to know Dermott better when we both were retired and travelling around as national selectors. He was very intellectual, and it has to be said that he didn't suffer fools gladly both on and off the field. He was great to have as a friend, and was marvellous company. My thoughts and prayers are with his family circle at this sad time."
Cricket Ireland Chairman David Williams added his tribute saying: "I learned of the death of Dermott Monteith with great sadness. He was one of our very greatest players and a much valued colleague in the administration of cricket in Ireland when his playing days were over."
Dermott Monteith was President of the Irish Cricket Union in 1999, and served as a national selector with great distinction for many years.
At club level he played for a very successful Lisburn team for many seasons, as well as Queen's University and very briefly for Donaghadee.
The funeral arrangements will be announced later. The thoughts and prayers of all the Irish cricketing family are with him at this difficult time.
Dermott Monteith RIP - 1943-2009.