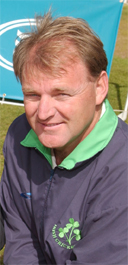 Ireland coach Adrian Birrell has admitted his side is "desperate" to beat the United Arab Emirates (UAE) in the final group match of the ICC Intercontinental Cup, the first-class tournament for the top Associate sides, which starts in Abu Dhabi on Saturday (10 February).
Reflecting on Ireland's performance in winning just one match in five in the recent ICC World Cricket League Division 1 (WCL Div.1) tournament in Kenya, Birrell said: "This match is a good opportunity for us to get back on track after a difficult couple of weeks.
"We lost some very close matches in the World Cricket League and I don't think we deserved to finish fifth overall.
"We played better than that but sometimes your performance is not always reflected in the results.
"We are desperate to get something from this tour and if we beat the UAE it will be a big boost for us.
"Not only will it put us in the final of the ICC Intercontinental Cup but it will help us psychologically as we make our final preparations for the West Indies."
Ireland is the defending champions after beating Kenya in a thrilling final in Namibia in late 2005 and it must win at the Sheikh Zayed Stadium in order to pip European rivals Scotland to a place in the final against Canada.
But that will be easier said than done.  Trent Johnston's side is understandably low after its losses in Kenya, especially as the failure to reach the final of the tournament for the top six Associates has cost it the chance to play in the ICC Twenty20 World Championships in South Africa later this year.
Qualification would have earned the Irish Cricket Union US$250,000, boosted its profile at home and abroad and left everyone on a high ahead of the side's first ever appearance in the ICC Cricket World Cup (ICC CWC), in the West Indies next month.
But now the players need to pick themselves up and perform against a UAE side that has already shown it can be a tough side to beat on its own turf.
Last month it came close to beating the Scots in Sharjah, and although its failure to do just that means it is playing for pride rather than a spot in the final after a previous defeat to Namibia, Emirates Cricket Board Administrator Mazhar Khan said the players would try to make full use of the Ireland game.
"I know we are out of the final race but we want to carry over our good performance against Scotland into this game, although it will be difficult against a side that has recently played some tough cricket," he said.
"We would not only try to win the game (against Ireland) but would like to take it as our preparations for the next season which will be a long and tough one.
"The next ICC Intercontinental Cup is likely to start for us in June and after two matches in the tournament we will head to Pakistan to take part in the Asia Cup.
"Ireland is the better team and we are keen to learn from anyone who is better than us. The Ireland game certainly provides us an excellent chance to develop into a more competitive team," added Mazhar Khan.
There are plenty of positives for Ireland to take into this must-win game, despite the recent setbacks.
The batting was the main plus in Kenya as the side notched up five of the ten hundreds that were compiled in the WCL Div 1.
William Porterfield led the way with two of those three-figure scores and his tally of 332 runs was bettered by just one man, player of the tournament Ashish Bagai of Canada, who made 345 runs.
Ireland could boast two other players with more than 250 runs in Nairobi, Kevin O'Brien (264) and Eoin Morgan (261), and both of those also notched up hundreds, as did Jeremy Bray.
So runs should not be a problem, even allowing for the absence of wicketkeeper-batsman Niall O'Brien, who is missing through suspension after an ICC Code of Conduct violation during Ireland's match against Scotland last year.
But the real issue is whether Ireland can take the 20 wickets it will almost certainly need if it is to give itself the best chance of victory.
The Ireland bowlers struggled to achieve control and penetration at vital times in Kenya and those failings may prompt some shuffling of the pack in Abu Dhabi.
Tall seam bowler Boyd Rankin, also on the books of English county Derbyshire, may get the chance to show his worth while Kevin O'Brien's left-arm wrist-spin, something he worked on during the recent ICC Winter Training Camp in South Africa, may also get an airing.
One advantage some of the Ireland players have is that the venue for this match will be familiar.  Five of the squad – Kenny Carroll, Porterfield, Kevin O'Brien, John Mooney and Rankin – played there last year in a tournament that also included sides from Sri Lanka, India, Pakistan, the Netherlands and the UAE.
The home side has made two changes to the squad that played Scotland with right-arm medium-pacer Ali Asad, one of the side's leading bowlers, replaced by Wasim Bari, while off-spinning all-rounder Rameez Shahzad makes way for Fahad Usman.
Asad is absent with a groin injury while Shahzad has been dropped after scores of 0, 10, 6 and 2 in the previous two games against Namibia and Scotland.
One certainty is that under Johnston's positive leadership, Ireland will be at full throttle to make amends for the disappointments of Kenya as the players look to put the smile back on the face of coach Birrell, who is quitting his post at the end of the ICC CWC.
However, whether the players' efforts will be enough against a determined UAE outfit only time will tell.
Apart from Ireland and UAE, the other sides in Group A are Namibia and 2004 champions Scotland.
Group B is made up of Bermuda, Canada, Kenya and the Netherlands with all matches now having been played. Canada won the group having beaten Bermuda and Kenya and although it lost to the Netherlands, it had done enough to qualify for the final.
The new format of the ICC Intercontinental Cup means sides will play a minimum of three four-day matches in this tournament, increasing to seven four-day matches in 2007 and 2008 when it is hoped the event will be a full round-robin format.
That compares to a minimum of just two three-day matches per year under the previous structure which, until the semi-finals, was regionally based rather than global.
The ICC Intercontinental Cup began in 2004 to give the leading players from Associate sides the chance to improve by exposing them to a longer form of the game.
UAE (from): Mohammad Iqbal, Arshad Ali (captain), Gayan Silva, Saqib Ali, Khurram Khan, Kashif Khan, Fahad Usman, Ahmed Nadeem, Wasim Bari, Qasim Zubair, Ahmed Raza, Naeemuddin Aslam, Ausaf Ali, Shadeep Silva.
Ireland (from): Trent Johnston (captain), Kyle McCallan, Andre Botha, Peter Gillespie, Kenny Carroll, Jeremy Bray, William Porterfield, Kevin O'Brien, John Mooney, Paul Mooney, David Langford-Smith, Eoin Morgan, Andrew White, Boyd Rankin.