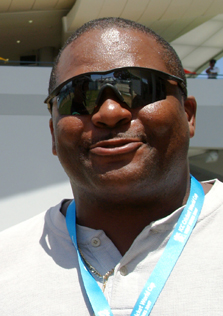 Here he talks about his time in Ireland, how Irish cricket can progress, and the forthcoming ICC World Twenty20 in the Caribbean.
Starting with Irish cricket, have you been surprised how it has emerged over the past ten years?
 
"No, I haven't..... it's a testament of what I believe to be a sound structure from junior level and Ireland is reaping the reward at Senior level. Ireland has a phenomenal record in Europe at the under age levels. That is the template for success, having a sound foundation."
 
Ireland have serious ambitions to get to the next level - is Test cricket a realistic goal, or should they concentrate on ODI and T20 cricket?
 
"It is a realistic goal but not for a while yet. Ireland needs to play more against the test playing nations in one day cricket as well as three and four day matches against the "A" teams of those countries. I believe two division test cricket would be a great idea but I don't see it happening right now. Ireland should concentrate on ODI and T20 but as mentioned before, it needs to be more against the test playing countries. You only improve by playing against the best."

"There is no question you need televison to help promote the sport as it still remains the most influential medium. It may also need to have the best players pitting their skills against each other more frequently but in 50 overs and T20 matches. The shorter version of the game doesn't get much support from the purist but there is no question it is an excellent vehicle to promote the sport."
 
Looking ahead to the ICC World Twenty20 taking place across the Caribbean next month, Ireland play West Indies and England in Guyana - what are the pitches there like – they seemed to favour spin in the recent West Indies versus Zimbabwe games?

"You can expect more of the same in terms of the pitches with the bias slightly in favour of the batsmen. Expect spin to factor in more so than pace but don't count out your slow medium bowlers - Andre Botha and Alex Cusack could well come into play."

Which WI players should Ireland be wary of - we all know of Gayle's destructive ability!
 
"Yes, Chris Gayle is always a force as he can take the game away very quickly but watch out for Kemar Roach. He is very quick and can be very effective with the new and old ball, something which is very rare these days in West Indies cricket. Dwayne Bravo is a match winner with his all round game as well and keep an eye on Darren Sammy, who is a very under rated cricketer."
 There's been a lot of talk in the media about the decline of West Indies cricket from the halcyon days of the 70's and 80's. Is there any sign of that being reversed, or is it terminal in your opinion?
 
"There are signs but everyone is looking at a quick fix. West Indies needs an active "A" team and academies in every first class territory concentrating on the juniors preparing them properly for first class and by extension international level. The success of the under 19 team in the World Cup (semi-final) supports that belief."

How is the West Indies preparing to host the T20 - there are signs they've learned lessons from 2007 when they were criticisms of ticket prices, banning musical instruments, draconian restrictions?
 
"I think the WICB has learned from the disaster of the World Cup 2007. A number of the restrictions have been relaxed, prices more affordable so expect the traditional West Indies atmosphere. Expect it to be one of the best ICC events ever. They will be helped by some wonderful venues for the cricket, with my own island Barbados obviously the jewel in the crown."
 
You mentioned your homeland of Barbados - away from the cricket, what are the tourist highlights that make Barbados such a popular destination?

"Good weather is guaranteed at this time of the year and historically Barbados is paradise because of the beaches and the people. It caters for a wide cross-section of visitors. The local attractions are endless including Harrison's Cave, Wildlife Reserve, Submarine Dive and nightlife. 
There are also other sporting events like yachting, polo, horse racing, spectacular golf courses, so everyone is in for a treat. Returning to the cricket, the recently refurbished Kensington Oval can now  play host to 28,000 fans, and is sure to provide a memorable experience for those attending the games, with the unique Caribbean carnival atmosphere."

On a personal level, are you still involved with cricket in Barbados?
 
"Yes, I'm still doing a bit of commentary so you will be hearing me during the T20 World Cup, and I do most of the international matches in Barbados. I'm also involved on the coaching side of things - I assist with coaching the University of the West Indies' first class team when time permits. I am very much involved in the tourist industry as Food & Beverage manager at the luxury hotel 'The Sandpiper'.
 
Looking back now, nearly 30 years since you first came to Ireland, what are your memories of your time in the country - both good and bad?
 
"One of my most memorable experiences was winning the North West Senior Cup in both 1990 and 95. I could not believe how it captivated the entire village. Conversely the worst memory was losing the Final in 1994 against Ardmore when Eglinton was clawing their way back into the game after an ordinary first innings. Hopes of a come from behind victory went out the window when I was given out caught behind which I felt was an error." 
"Hitting seven 6s in an over was obviously a highlight of some sorts as I am yet to hear of it being done before or since. In Dublin I got great satisfaction winning the double (Cup & league) in my first year with Leinster and then winning another two trophies with Phoenix after major surgery on my arm the previous year."
"My favourite player was always Decker Curry after seeing him as a 17 year old. I said to a well known editor of the Ulster Cricketer that I thought this guy will play for Ireland. He said to me no chance as he plays across the line, but I reminded him that he doesn't miss too many and the same criticism was leveled at Viv Richards. As they say the rest is history."
"Junior McBrine is a legend for me because of his durability and the high level of performance every single year. In Dublin Jeremy Bray was by far the most professional player I have played with or against. I was amazed at the value he placed on his wicket no matter the situation of the game."

 
Returning to the international arena – there's a West Indian connection now with Trinidadian Phil Simmons in charge of the Ireland team. How is he regarded in the West Indies – is he seen as a possible future coach there?


"Phil is relatively new in his coaching career so not a great deal has been reported here about his coaching ability. He obviously had a tough act to follow after Adi Birrell, and so far he has done an admirable job." 
 
 
Last question –prediction time -  who is going to win the ICC World Twenty20?
 
"I think Australia will start as favourites again and watch out for India. Both teams have gained valuable experience in the T20 format by inviting talented players from around the world to be part of their domestic competitions."
For supporters wishing to travel to the West Indies for the final stages of the World Cup, Sadlier Travel in Dublin has put together an attractive package. An eight night deal in both St Lucia and Barbados, including tickets to the semi finals and finals is on offer for just €1625. For more details contact Alan Benson alan@sadliertravel.com