...when he appears along with the fifteen members of the Irish World Cup squad on the Late, Late, Show.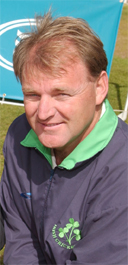 Speaking ahead of that swansong, Birrell paid tribute to the Irish public and the Irish Cricket Union, saying, "I'd like to record my appreciation of the marvellous support I've received in my five years as coach of Irish cricket. The public have been nothing short of fantastic, and the support for the team has been incredible, not just over the past few months.
On this, my last day of work, I'd like to thank all the players who have served me so well, with such commitment, courage, enthusiasm, and talent. I look back very proudly at what I have achieved in Irish cricket, and recognise that were it not for the efforts of a lot of people, it wouldn't have been possible.
I wish our CEO, Warren Deutrom, and my successor, Phil Simmons, every success in not just the Friends Provident campaign, but in all the major fixtures that lie ahead in the coming years. I'd also like to thank John Wright and all the Officers of the ICU, who gave me the backing I needed during my tenure.
As I bid farewell, I wish Irish cricket all the best, and hopefully there will be many more glory days in the years ahead. The Irish public deserve nothing less for all their wonderful support.
Thank you all for an amazing five years. I'll never forget you - Irish cricket will always hold a special place in my heart."