It will take the Bank's sponsorship to a run of 15 years, one of the longest in local sport.
The renewal of the Bank's continued support was announced at the draw for the Schools Cup which will see holders Royal Belfast Academical Institution host Ballymena Academy.
Stephen Cruise, Ulster Bank Regional Manager for Northern Ireland, said the Bank was delighted to support a game which had seen such success with the Ireland team's performance in the World Cup in theWest Indies.
He said : "We are particularly pleased to continue our cricket sponsorship, not least of the Schools Cup - it's where the future lies and is one of the breeding grounds for international players in the years ahead."
The NCU's Sponsorship Officer, Richard Johnson, said : "Ulster Bank have been long-standing and excellent supporter of local cricket and we are delighted that our relationship is continuing."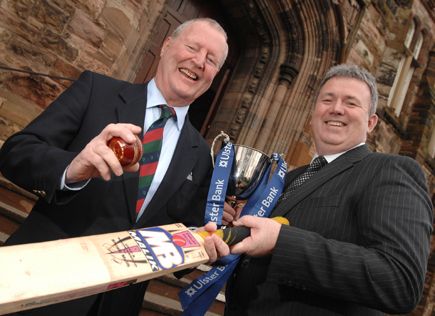 The first round of the Schools' Cup will be played by May 7 and the full draw is:
Down HS v Limavady GS
Royal School Dungannon v Grosvenor GS
Sullivan Upper School v Strabane GS
Friends School II v BRA II
Coleraine AI vBelfast High School
Lurgan Collegev Foyle & L'derry II
Royal School Armagh v BRA
Bangor II v Regent House
Portadown College v Banbridge Academy
Foyle & L'derry College  v Friends School
Campbell College II v Bangor GS
North WestReg. College vCampbell College
Dalriada v Ballyclare HS 
RBAI II v Wallace HS II
RBAI vBallymena Academy
Wallace HS v MCB