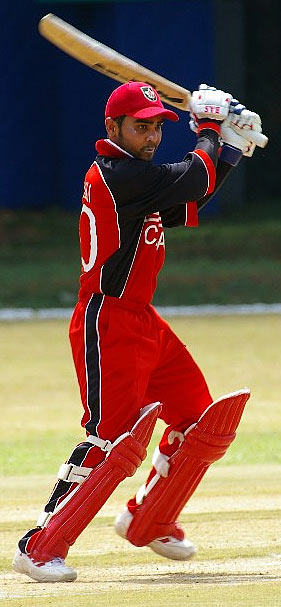 The 25-year-old has been hugely impressive during the tournament, scoring two centuries and one fifty at an average of 86.25, including a top score of 137 not out in his side's thrilling seven-run defeat to finalists Scotland.
Bagai compiled eight Player of the Tournament points in five matches, as decided by the two on-field umpires in each game, putting him two clear points ahead of his next rival, Ireland opening batsman William Porterfield.
At the end of each game, the on-field umpires elected their top three players in order. Three points went to the player of the match, two to the second best player and one to the third. The Player of the Tournament was decided by adding together all the points.
Bagai picked up his award at the WCL Div. 1 closing ceremony in Nairobi last night. It was presented to him by tournament referee Roshan Mahanama of the Emirates Elite Panel of ICC Match Referees, himself a veteran of 52 Test matches for his country, Sri Lanka.
"It is a great thrill for me to win this award," said Bagai today. "I am really psyched and it is great for my confidence ahead of the (ICC Cricket) World Cup," he said.
"I had no idea I had won the man of the tournament. David (Obuya of Kenya) and Porterfield did very well. I knew I was close but those guys had great tournaments too."
With attentions now turning towards the ICC Cricket World Cup, Bagai said he could not be happier with his preparations.
"It has been perfect. I was at the ICC Winter Training Camp in Pretoria (late last year). That was perfect for me – I really felt I improved. And then we had a hard-fought ODI series in Mombasa (with Kenya and Scotland) and then the World Cricket League. It has been ideal preparation.
"Our first game in the World Cup is against Kenya. That is a big game for us and one we really want to win. After that we play England and New Zealand. We are not expecting to come top of the group. Our goal is to put in consistently good performances against all the teams we play. If we do that we will be happy.
"Playing at that level will be a big step up for me. It is going to be a challenge and a way to test myself. As a team we are where we want to be mentally and we are really looking forward to it now," he said.
The final of the WCL Div. 1 will take place between Kenya and Scotland tomorrow (Wednesday) in Nairobi Gymkhana. Both finalists have now qualified for the inaugural ICC Twenty20 World Championships which will be held in South Africa in September.