Appearing in their third successive final Donemana emerged as winners by defeating 2006 champions Campbell College Junior School at Stormont on Tuesday 19 June.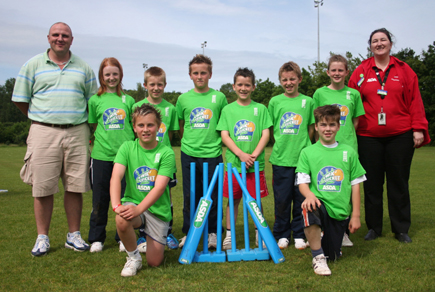 Sixteen teams in four groups contested the 2007 Finals with teams representing all six counties of the province in attendance.
Nationally Kwik Cricket is sponsored by ASDA and the local branch provided snacks and drinks for all participants through the good offices of Karen Blair their events coordinator.
The Finals Day was opened by Andrew White who told the assembled children that his cricket career started with Kwik Cricket and challenged them to set their targets high and be members of an Irish Team playing in the World Cup in ten years time. A short question and answer session followed before the event was declared open with Andrew instructing all to – "Go and have fun."
Group A winners were Donemana overcoming the local Brooklands Primary, Dundonald in the final game which both teams had entered unbeaten.
Group B winners were Eglinton Primary who survived a close first match with Templepatrick Primary and then beat a strong Strandtown side in the final group match to retain their unbeaten record.
Group C winners Enniskillen had two of the closest matches of the day in their first 2 group games, winning by 1 run against Greenisland Primary and by 2 runs against Christie Memorial. A third win against Finaghy Primary meant that they too entered the semi-finals unbeaten.
Group D winners were Campbell College Junior School whose second round win against Waringstown Primary proved decisive as both schools won their other group games and like all the other group winnersCampbellmoved into the semi-finals unbeaten.
Campbell overcame Enniskillen in one semi-final while the other, the battle of the North West, Eglinton versus Donemana provided a classic with Donemana chasing down the Eglinton total and then ensuring that they didn't lose the wickets that Eglington needed to snatch victory back.
Batting first in the Final Campbell's loss of early wickets was to prove decisive and they found themselves having to chase the game and hope that they could inflict similar damage to the Donemana innings. That was not to happen and after losing in the last two finals this was to be Donemana's day.
Thanks to all who participated in the Club and District Festivals that preceded Finals Day, to all the Staff and parents for their support and cooperation throughout and especially to Philip McCormick who took time out from preparing the pitches for the forthcoming international matches to make the ground available to us.
Our thanks again to ASDA the national sponsors and Karen for her support on the day and the supply of drinks and snacks.
Asda Kwik Cricket Tournament
This final is part of this national schools competition involving nearly 30,000 children and spanning 40 counties across the UK.  It begins locally and ends up with a national final where one school is crowned Asda national champion.
Andrew Flintoff launched the 2007 ASDA Kwik Cricket tournament, with a specially arranged tournament held at Regents Park involving 450 children from London, encouraging even more kids across the country to get involved in the new-look programme.  
A modified format of cricket focusing on the game's core skills and rules, Kwik Cricket has involved nearly one million children in its structured county, regional and national competitions since it's inception in 1988.
In 2007 alone, the ASDA Kwik Cricket competition is set to involve in excess of 120,000 teams including over 1800 district festivals.      
Kwik Cricket has been designed by the ECB to take young cricketers all the way from the playground to the Test arena to create future generations ofEnglandstars.  
David Collier, ECB chief executive, said: ""Enthusing following and participation among young people is a core objective of the ECB Strategic Plan 2005 – 2009 and Kwik Cricket accomplishes this aim magnificently.  "This year the competition is more popular than ever with over 120,000 children in 12,000 schools taking part in 1,800 local festivals across England and Wales.  We are delighted to have ASDA as sponsors of this competition - their presence at the festivals and finals with fresh fruit and water for the children delivers a very positive message about the benefits of an active lifestyle and healthy living."