Tie of the round sees Bready take on NW league champions Brigade at Magheramason. These sides have been frequent opponents in recent years, with Brigade coming out on top in 2006, thanks to a partnership of 312 between Iftikhar Hussain (204) and Wajahtullah Wasti (115). There were happier fortunes for Bready in 2005, when they skittled the Beechgrove side for just 66, with current skipper Trevor Britton taking 5 for 18.
Both sides have had a lean run in this competition in recent times. Bready's sole win in their history came back in 1996, while Brigade last tasted victory in 1998, although they have had the consolation of winning the league title in 5 of the last 7 years.
They will also have a new captain at the helm next year, as Charlie Elder takes the reins from Mark Simpson.
Donemana will also have a new face in charge, with former Irish international Dwayne Mc Gerrigle replacing Jordan Mc Gonigle, who is stepping down after 5 years. They have been handed a tricky opening round fixture away at fellow Tyrone side, Fox Lodge. The Ballymagorry side have never reached the final of the Cup, while the aforementioned Mc Gonigle was captain when Donemana last tasted success in 2004.
The other all Senior One clash sees Killymallaght on their travels to Strabane. The Tyrone outfit last won the cup way back in 1993, and a further success is long overdue. The vistors won't be overawed, as they showed when they chased 274 earlier this year to win by 7 wickets. Their hero on that occasion was Danza Hyatt, who scored an unbeaten 131, and with the Jamaican due back in 2008, another win could well be possible.
Holders Limavady will begin their defence against Senior Two oppostion, with a home tie against either neighbours Drummond, or Creevedonnell.
Newly promoted Ardmore, who won for the only time in 1994, have home advantage over either Bonds Glen, who have knocked them out twice in recent times, or Burndennett.
2005 winners Glendermott face Sion Mills at The Rectory in a repeat of last year, when the home side chased 324 to win by 2 wickets. 2006 victors Eglinton face a possible giant killing act when they appear for the first time in their distinguished history at Killyclooney.
The final tie is an all Senior Two affair, with St Johnston or Coleraine playing the winners of the Nedd versus North Fermanagh game.
The preliminary round takes place on May 10th, with the first round proper two weeks later on May 24th.
Eglinton has also been confirmed as the venue for the final, which will take place on Friday/Saturday August 1/2.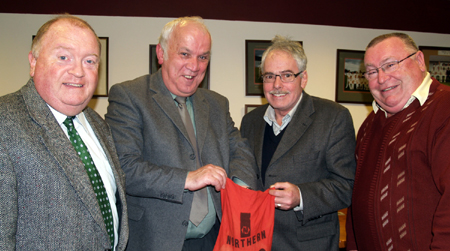 The draw in full is as follows:
Limavady v Drummond/Creevedonnell
Fox Lodge v Donemana
Ardmore v Bonds Glen/Burndennett
St Johnston/Coleraine v The Nedd/N Fermanagh
Strabane v Killymallaght
Bready v Brigade
Killyclooney v Eglinton
Glendermott v Sion Mills