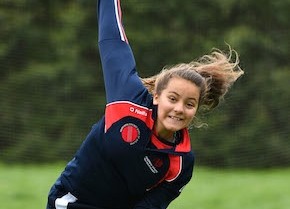 Never before has female sport at elite level had more exposure, and in so doing providing role models for young females to follow. In Irish cricket the mens' achievements on the world stage have been well chronicled leading to a level of interest never seen before on these shores. The female Irish team played in the 2016 ICC Women's World Twenty20 in India, and by virtue of a sixth place finish in the 2017 Women's World Cup Qualifying tournament retained their One Day International Status. Domestically a Super 3's series is held allowing the best female players to compete against each other (Typhoons, Scorchers and Dragons). Within the Northern Cricket Union a Women's Premier League and First Division, along with a Senior Challenge Cup are now cemented within the local calendar. Not only can females participate in their own league and cup system, but many are now playing within the lower echelons of the men's leagues.
Throughout the world of sport young athletes with exceptional talent compete at levels their peers do not, and this has been seen over the years within the male playing fraternity of the NCU. However, one young female cricketer is showing exceptional talent at the tender age of eleven. Amy Hunter began playing cricket with her older brothers James and Andrew in the driveway at home, and at eight years old was playing for the Instonians Under 11 'C' team. She states that hitting sixes is what she enjoys about playing cricket, and for the younger generation who have grown up watching the big hitting batsmen in Twenty 20 this is no surprise. Watching Ben Stokes aggressive intent with bat and ball and energy in the field, and combative instincts makes him a favourite of Amy. Within two years Amy's talents see her playing for Instonians Under 11's (Boys), NCU Under 11 (Boys), NCU Under 15 and Under 17 Girls, Ireland Under 15 Girls, and most impressively NCU Women and The Dragons Super 3's team. In a game between the NCU Women and their North-West counterparts Amy took four wickets, with three of those coming in four balls.
Amy is an all rounder who favours batting, and it was in the Quoile Cup (NCU Under 11's) in 2016 that she registered her highest score, 63 not out against CIYMS. She would then score 48 in a fourteen run semi-final victory against Waringstown, and 27 not out in a final that CSNI won by 8 wickets. Although still very young Amy is determined that her cricketing journey will take her to International honours, and to the Australian Big Bash tournament. The recent news that Ireland have been elevated to Full Member status and with it Test Cricket allows a new generation of young cricketers to aspire to a career in cricket. Amy states that her greatest achievements on the cricket pitch to date include being selected for Ireland Under 15 Girls and the Dragons Super 3's team.
Amy cites being involved in the Andrew White NCU Academy as a huge benefit to her cricketing education, and it is of paramount importance to the NCU that they develop both male and female cricketers.
Playing cricket matches against boys holds no fear for Amy as she reveals that competing against her brothers has prepared her for this. Indeed she thinks that some of the boys are actually scared of her!! Her immediate goal is to play alongside her father Jim on the Instonians VI (Junior League 8). This is a new innovation from the Belfast club who use it as a parent and son/daughter team to introduce young cricketers to Junior Cricket.
Away from the cricket pitch Amy continues her passion for sport with hockey, netball, squash, athletics and swimming on her timetable. Her talent in the pool has won Irish Minor's Schools swimming gold medals and played on Ulster U13 Girls squash team. In the years to come Amy Hunter will be a talent to look out for not only on the cricket field, but in some of the other sports she has a passion for. The NCU aspires to have a female team competing in the Irish domestic series and if this comes to fruition Amy could be a central figure of it for years to come.