Clarence Hiles reports from the Caribbean...
...but once again they won a lot of compliments from their opponents. South African Skipper Graeme Smith and Man-of-the Match JacquesKallis were warm in their appreciation of the Irish performance, and while Kallis had the benefit of two dropped catches, they were rare blemishes on another good day in the field. The match wasn't won and lost on the toss, but Smith was delighted to call correct and insert Ireland, as it was always going to be an uphill struggle in the wet conditions. Nevertheless it was a gutsy performance and augurs well for the "Minnows Cup Final" against Bangladesh in Barbados on 15 April.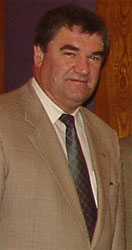 Another entertaining performer yesterday was team manger big Roy Torrens in his all-too-short role as radio commentator in tandem with former West Indian fast bowler Colin Croft. Big Colin likes the Irish, although he sometimes mixes us up with the Sots, but he had to play second fiddle to big Roy as the quips came fast and furious on the air. Big Roy even had text messages coming in and one in particular drew reference to his record of 30 Ireland appearances and taking 77 wickets. Roy claimed he was too modest to mention it, but when Colin said the text had been sent by his brother Ian, it took some of the gloss off the big man's modesty!

Ireland now prepare for New Zealand, one of Roy's pre match favourites, and the team managed by his good friend Lindsay Crocker. No doubt it will be another epic challenge for Ireland and no doubt there'll be a few beers to follow between the managers!

There's a lot more to this World Cup than the cricket!