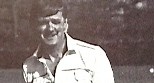 Two days ago Wallace (Wally) Shannon succumbed to terminal illness after a long innings over the past few years. Wally will be remembered throughout local cricket for his genial and loveable personality.
Wally was Woodvale man, although for many years he was a stalwart at the RUC Cricket Club, later named the Police Service of Northern Ireland (PSNI). These were tough times for police officers during the Troubles, and Wally formed a resolute group within the cricketers, regularly facing depleted teams and postponements because of duties. Despite adversity, I remember the friendship and camaraderie enjoyed during the Seventies and Eighties. In particular, the visiting RUC teams were warmly welcomed at The Green and in return, Newforge was one of our most popular venues. We were fortunate to win a few times during the RUC Sixes Tournament and in particular the exchanges with the home teams. Wally played a key role within the club, and we shared in a few drinks après cricket, with perhaps too much than we might want to remember. Wally shared the good times and the bad times, and we exchanged many conversations on the perimeter over cricket grounds. Sadly, he wasn't able to enjoy the twilight years, and my last yarn was several years ago in the company of John Craig, Bob Magee, and Alwyn Kidd at the NCU Annual Dinner. They were great friends throughout his life, as were the late NCU President Jack Newell and Jimmy Macartney of Woodvale.
In later years, post-retirement, Wally returned to Woodvale, but in truth, he never lost in roots. He was a Ballygomartin Road man through and through.
Wally was a lovely man, and he will be remembered for the friendly sporting manner he played on and off the game. We extend our deepest sympathy to the family and his many friends.
Rest In Peace good friend.
JCH