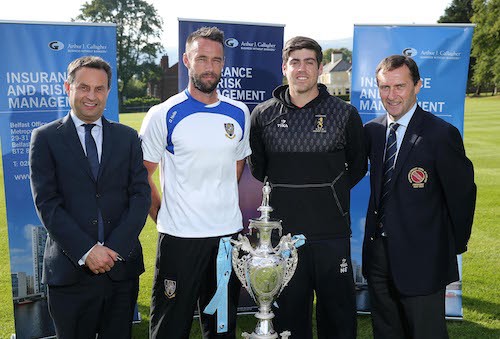 Comber at The Green will be the venue for Senior Challenge Cup finalists on Saturday next. Instonians (Inst) and CIYMS (CI) will battle together, although both teams have been tarnished with pre-final defeats in the league. However, knockout competition is a different ball game, and both teams pack impressive credentials.
Better known as the Senior Cup, neither Inst nor CI can claim to have a strong pedigree since neither Belfast clubs have a list of previous victories. Inst won in 1964 and 2012 while CI won for the first time in 2015. Ironically, that victory was against Inst in Comber.
North Down, Waringstown and North of Ireland (reborn as Civil Service North of Ireland) have dominated down the years with some shorter periods from Woodvale and Lisburn. However, it matters little when the teams lock horns at The Green. Inst and CI deservedly join the 'Big three' with Waringstown in recent years, formerly the 'Big Four' with North Down, although they are currently vying at the top of the league table. Inst were fortunate to beat North Down at Shawsbridge in the quarterfinal with a narrow 18 runs surplus, although they romped home in the semi-final against Lisburn with a nine wickets win.
CI defeated Muckamore by six wickets in a low-scoring semi-final. But if you are looking to form then forget it. Last week Muckamore defeated Inst and CI in the league! However, but I'm sure the Moylena club would have loved to win in the Senior Cup and stir memories of 1972, the last time they reached the final.
In the last seven years Inst have contested three times and won once. CI have also contested three times and won once. Either way, someone is going to win another year!
Both teams are packed with talent and we are certain to enjoy a run feast, as the Comber pitch is a fine track. Grounds staff Paul Revill and big Ray Moreland claim the wicket is full of runs!
Several players have shown prolific batting in recent months with Inst James Shannon and Andrew White in particular, although CI skipper Nigel Jones, Chris Dougherty and John Matchett have also been impressive. However, wickets may not be as important on the day, because least runs conceded are just as vital in the final. The bowling strength of each team will be severely tested from the batting depth.
One negative is that it should never have happened on Saturday. The cup final was originally stated for Friday, but Cricket Ireland set a fixture involving Wolves (Ireland A) and this involved an Inst player on Friday. Cricket Ireland was responsible for the clash of dates, but they couldn't release him. This means the Saturday presents a number of problems. Other clubs won't be able to attend, North Down has had to make separate arrangements, the crowd will significantly reduce, and it is a huge disappointment for the sponsors Arthur J Gallagher. We are told many corporate guests had other plans on the Saturday. The NCU was placed in an impossible situation, and Cricket Ireland should have avoided this or alternatively released the player.
The final starts at 11am and the reserve date is Sunday 30 July. The umpires are Howard Bingham and Jareth McCready with Reserve Umpire Wylie McKinty.
May the best team win!
Clarence Hiles
Editor