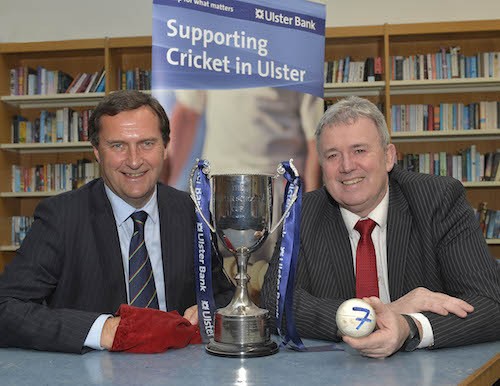 Seeding has been introduced in the Ulster Bank Schools Cricket Cup for the first time with six teams receiving automatic entry into the second round.
Holders Belfast Royal Academy are one of the six and have been drawn away to the winners of the first round game between Wallace High School and Carrickfergus Grammar School.

Two unseeded schools - Down High School and Sullivan Upper - have also received byes into the second round.

The draw for the first round to be played by April 22 is:

A: Wallace High School v Carrickfergus Grammar School

B: Ballyclare High School v Friends School, Lisburn;

C: Ballymena Academy v Royal School Dungannon

D: Lurgan College v Methodist College Belfast;

E: Belfast High School v Bangor Grammar School

F: Regent House v Royal School Armagh;

G: Limavady Grammar School v Portora Royal School

H: Grosvenor Grammar School v RBAI Seconds.

Second round matches to be played by May 6 will be:

A v BRA; Campbell College v B; C v Coleraine Grammar School; Foyle College v D; E v Down High School: RBAI v F; G v Strabane Academy; Sullivan Upper v H.

The complete draw has also been made for the Ulster Bank Schools Under 15 Cup.
The following first round draws will be played by April 22.

A Royal School Dungannon v Ballyclare High School

B: Portora Royal School v MCB

C: Banbridge Academy v Down High School

D: Belfast High School v RBAI

E: Lisneal College v Foyle College

F: Royal School Armagh v Limavady Grammar School

G: Lurgan College v Regent House

H: Friends School v Sullivan Upper

I: Coleraine Grammar School v Ballymena Academy:
Second Round (by May 6)

J: BRA v Strabane Academy;
K: Campbell College v Bangor Grammar School ;
L: A v B;
M: C v B;
N: E v F;
O: G v H;
P: I v Wallace High School;
Q: Carrickfergus Grammar School v Grosvenor Grammar School:

Third Round (by May 20):

R: J v K
S: L v M
T: N v O
U: P v Q:

Semi-finals (June 3)

V: R v S
W: T v U

The final will be played by June 16.