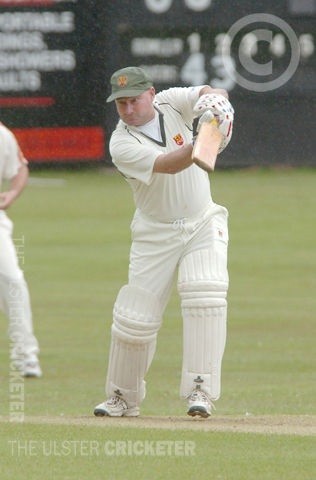 The Ulster Cricketer recently caught up (virtually!) with Uel Graham to talk to him about his role within the NCU and also about his career at club and international level.
You had a successful club and international career. How did it all start and what were your highlights?
I played my first senior game for Lisburn at Comber in the summer of 1981, aged 14.
I remember a ball going in the air off the bowling of Dermot Monteith, and I shouted 'Mine', let's just say that Dermot verbally encouraged me to catch it. I missed most of 1982 season due to illness, really didn't establish myself until 1985 and played in the Senior Cup final win over North. 1986 saw the famous Botham game at the Park. From '92 to '95 we had a very strong side, winning the league once, with one less win than Waringstown, due to bonus points structure, the Cup final tie with North Down in '94, playing with a broken thumb in a cast, and losing to Lurgan in '95.
I moved to Muckamore in '97 and spent three years there, took a sabbatical until '06 when Peter Reid 'encouraged' me to come back and play for Lisburn. Spent two more enjoyable seasons there until hanging up the boots in '08.
I had a decent Interpro record but got a break in '92, when I scored 70 odd versus Ulster Town at Comber and was picked for my first cap v Middlesex at Malahide. Struggled against the extra pace/movement of county bowlers and lost my place until late call up for ICC qualifiers in Kenya in '94. Between then and '97, re-engineered myself from No3 batter to a 'middle overs' bowler who batted a bit, highlight was beating strong Dutch side in European Championships in Denmark in '96. At the next ICC in Malaysia, only played one game, and decided out there that I would call time on my international career, it was cricket or banking and aged 30 at the time, the young guns, Patterson times 2/Eagleson/Doak/Heasley/McCallan and Gillespie were all showing great promise
What involvement did you have in cricket prior to taking up the appointment with the NCU?
I played for Muckamore from 1997-2000, but stopped then, our daughter Jessica was born and golf took over from cricket. I was captain of Down Royal Golf Club in 2003, then back to cricket at Lisburn '06-'08 and then back to golf and the financial crisis took up quite a bit of time. I had always wanted to get back into cricket and cricket coaching. I remember bumping into Stephen Warke in the summer of 2013 in Portballintrae and he said, Grahamer why are you not involved???
It stuck and Charles Henderson, who I played with at Muckamore back in the '90s was involved in their committees and asked me to get involved. I was in the process of availing of Voluntary Severance from First Trust and thought it was a good time to get back into cricket coaching.
So, I took a coaching role at Muckamore in the summers of 2014 & 2015 as well as supporting junior programmes at NCU. I undertook my ECB Level 2, and started to lead NCU U13. I spoke to CIYMS in 2016 and took a role in their youth programmes through to 2018, as well as leading NCU U15 squad. I also undertook my ECB Level 3 to really concentrate and focus on my own coaching. From 2015, I had also started to get involved in the running of the NCU Youth Programme, and with Alan Waite (who set up this programme) taking on NCU Chairman role, I took on a more formalised role, including organising all aspects of the programme/tours/facilities/coaches/compliance as well as coaching.
Was this a role that you thought you could help make a difference to cricket?
I had been involved for a couple of years in coaching/organising and resonated with NCU Board and senior officials to the vision and ethos they had about youth cricket both domestically and representatively and we had made great strides from 2014-2017. This involvement had re-ignited my passion for cricket and helping develop the game and lots of my skills, experience and knowledge from the banking world could transfer into the cricket world, supplemented by my playing experience and also as a coach, how that would impact.
My ethos was very much, let the players play, let the coaches' coach and that I could make a difference from within in driving this. The role involved building relationships with internal stakeholders, clubs/parents/players etc but also external stakeholders, Cricket Ireland/sponsors/NIACUS/facilities and other cricketing fraternities and that I could be a positive influencer in these critical areas.
What attracted you to apply for the role of Cricket Operations and Administration Manager with the NCU?
I had been taking on more responsibility in some of the areas on the job description and the role was evolving into other key areas which were also in the specification. At the same time, I was still coaching at club and regional youth level, as well as working as a self-employed training consultant in the financial services world so I was very busy. I decided that I needed one focus, so the club and regional coaching had to go and then it was a toss up between the other two roles and having spoken to a few close trusted friends, I opted to focus on the cricket role and was fortunately successful in securing the role.
What would you say were the challenges you faced when you took up the role?
The first challenge was an acceptance that my coaching roles would have to stop to be able to commit the necessary time, energy and focus on the new role. This was at first a tough decision but recurring shoulder and hip pain from my playing days made that call not so difficult. The first 'on the job' challenge happened in the first week with a venue change from Carrick to Stormont for an IP50 game due to Carrick being affected by weather. I had to get to grips with the logistics and planning quickly and to work closely with key CI/NCU officials and the staff at Stormont. Whilst I knew a fair amount about cricket in NCU, the dynamics of Cricket Ireland structures were new, but I have to say that people like Simon Dyke, who was CI Operations Manager, at the time, were great.
Also, whilst I would have known quite a lot of people involved in clubs, some had obviously changed personnel, so getting to know key people at clubs who host either senior or junior regional games was vital.
Prior to lockdown what did a typical day/week entail for you?
There isn't really a typical day as such, which is the great part of the job!!!
It could be divided into a day during the cricket season and a day in the off season.
During the cricket season, there would invariably be a senior Knights or junior Knights game on or some form of travel (last summer we had over 100 'cricket days'), so I prefer to be onsite and support the coaches, or liaising with facilities for training and logistics. Fortunately, most senior games have been at Stormont, where our office is, or Comber, so not too far from the office. All the Cricket Ireland games are at Stormont, so again liaising with staff there and volunteers in the lead up, on match days and post games.
For NCU based inter provincial senior matches, I like to be at the ground around 8am, meet and greet CI/match officials, make sure all the logistics are in place, liaise with club staff around grounds/catering/sponsors. During the game, keeping a check with umpires/scorers/media/match manager especially if we have any rain breaks. Then after the conclusion of the game, putting the venue to bed, sponsor boards and leaving the ground as we had found it, on occasions that can be after 9pm.
We also have extensive junior programmes, last summer we had 4 tours away including our first ever women's tour, so I'm continually in touch with coaching teams/venues/opponents, making sure we have kit/balls/umpires etc and that all parents have the correct info about travel/meet times etc.
From late August to March, the focus switches to the winter programmes, booking and linking in with facilities, each age grade regional coaches, we now have around 35 coaches across our programmes. Reaching out to clubs for nominations and planning the winter programme, amongst other tasks working with Grounds, NIACUS, Domestic and Representative Directorates and meeting existing and new sponsors. I would spend most Sundays across our training venues, UU Jordanstown/Wallace High School and Campbell College, talking to coaches/parents/players and getting a feel for our programme delivery. This winter we had been working hard on our second golf day, which should have been on Thursday 9th April!!!But we plan to run it in October.
Just prior to lockdown, I had to unravel a lot of the planned work that we had for March/April/May.
NCU regional programme stopped with 3 weeks remaining, Easter Camps were planned for both the Andrew White Academy and NCU/UU Girls Academy, we had a number of match days scheduled to the end of May, so those all had to be cancelled, including proposed tour for U19 /Emerging players to Cork. We had also planned for Umpires/Scorers and Grounds staff workshops which also had to be cancelled. The umpires and scorers' workshops are now going to be run via Zoom in April/May, and the Grounds Force have a Whats App group to keep connected.
Like everyone else your work has been affected by the situation. How do you carry out your role now?
The NCU Cricket Office closed mid- March to end May so I'm working from home. The team have been keeping in regular contact by phone/Whats App, email and Zoom video conferencing. We have a number of Whats App groups where we engage regularly, one example would be the Grounds staff group where we have over 25 club representatives engaging, with Phil McCormick, Head Groundsman at Stormont, leading that up. This has been a great innovation, and from photos on the group, some grounds are looking fabulous, just a shame that we have no cricket.
This lockdown has given us an opportunity to work on some the things we just don't seem to have time for during normal activity.
I'm working closely with Allan Rutherford, Director of Representative Cricket and the NCU Lead coaches as to how our summer programmes might look if we get a chance to start and at what point as well as linking in with our facilities as to availability. Also looking at how the Winter Programme might look with the loss of so much cricket so far and with no School's cricket. We are hopeful of delivering a packed programme across all age grades and at all levels across the summer months.
The NCU team have set up Google Classrooms for all our age grades as well as a general classroom and we have over 250 participants as we try to maintain engagement during this downtime. We have designated resource also for our regional coaches.
I'm still working closely with Alan Waite, who is now Director of Domestic Cricket on some initiatives on the Domestic game and also with Gary Blair, Chair of NIACUS on revising Ground reports to support local clubs in their development.
I am NCU counter signatory for Access NI, working closely with Clubs and NIACUS in ensuring their applications are checked and correct, before passing on to Access NI.
I'm also in regular contact with suppliers, NCU recently secured capital grant funding and some of that equipment has arrived, some is in transit and some in storage. Last week, with Stormont closed, I took delivery of 3 water hogs and had to take them off the pallets and store at home in the meantime!
I suppose my main focus is really to keep engaging with those normal day to day stakeholders, be that Angela Platt, General Manager NCU, the rest of the staff team, clubs/coaches/parents/venues and keep up the level of contact that will enable us to hit the ground running when we get the green light.
When the situation returns to normal and given the good work already done by NCU what plans have they to develop cricket further within the Union?
It is such a shame that this enforced break has come at this time, as we all really feel that we were gaining great traction and momentum across all aspects of cricket within the NCU and there was greater involvement from clubs in some of those key initiatives. I think the return to 'normality' will take a long time and may be on phased approach.
It sounds a bit of a cliché, but if we were able to start again, it would be to pick up where we left off. We are all acutely aware of the challenges that cricket and cricket clubs face and we are here to support the sustainment and development of cricket within NCU.
With the loss of the Schools cricket season, the team are already looking at new initiatives for the winter. We have also been looking at how the Regional Winter Programme might look and how it can be extended and enhanced to make up for time lost in the summer.
I suppose its about trying to remain positive in what are very challenging times for everyone and about making sure that cricket and enjoying cricket can be a major part of people's lives again as it had been before this crisis.