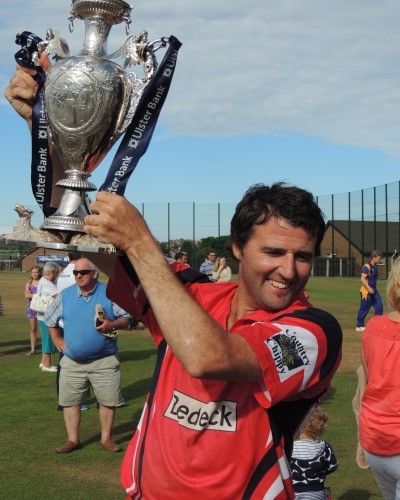 Three teams are from the city and one from the country, with each match worthy of a final.
The Senior Cup as it is better known, has been around since 1887 and it remains one of the most prestigious club competitions in Irish cricket. Three clubs have dominated its rich history and over the years it was rare to have a final that did not involve North of Ireland, North Down or Waringstown. The goalposts have changed in recent times, but ironically the main clubs still dominate the Senior Cup, although the emergence of Instonians and CI has threatened the old power base and rejuvenated the competition.
This will be the last year of Ulster Bank sponsorship and they will surely go out with a bang, as any two of these teams will guarantee a worthy showpiece at The Green in Comber on Friday 31 July.
Civil Service North, Waringstown and Instonians reached the last four with relatively easy matches and the double century by James Hall against Carrick was the outstanding highlight of the quarterfinals. The other game was less conclusive and more confusing as Duckworth-Lewis permutations swung to and fro in the final overs between North Down and CI. Crucially Peter Eakin was dismissed going for the all-important boundary that might have tilted the match in favour of the Comber men, but CI squeezed through by 13 runs on D/L and in cup competition it's the result that counts.
Much of the focus will be centred on Belmont where CI host Waringstown in the match everyone has been waiting for all season. Both teams are packed with talent and each has a small group of match-winners with the ability to turn any game on its head with an inspired performance. Setting aside the professionals, who will always be expected to make a contribution, CI's strong ensemble of recruits has made them favourites to win every NCU competition this season. The prolific all-rounders Nigel Jones and Johnny Thompson spearhead their attack, but Waringstown are just as strong with Lee Nelson, James Hall and the effervescent Kyle McCallan in their ranks. It will also be interesting to see how Waringstown teenager Adam Dennison fares against the blossoming CI teenagers Aaron Johnson and John Matchett and if they can steal the limelight from the more established stars. On paper CI appear to have the strength to win on home ground, but I'm backing Kyle McCallan, the man for the big occasion, to make the big plays and guide the Villagers to their third successive final
A short distance over at Stormont cup holders Civil Service North host 2012 winners Instonians and won't be daunted by their underdogs tag. They beat Waringstown last year when nobody gave them much of a chance and with Wayne Horwood and Andy Cowden in prolific batting form against Lisburn in the previous round, they'll be hoping to repeat that success. But Instonians have strength in depth and that should be enough to see Neil Russell's men return to the final. Russeller might have a big part to play in this match as he can destroy any attack if he gets off to a good start, but for me the ace in the Instonians pack is all-rounder Andrew White, who like Kyle McCallan, is as good as any overseas professional that has played here in the past 30 years.
So it's a Waringstown-Instonians final for me, but I won't be shocked if it turns out to be a CI-Civil Service North outcome! We have four good teams on parade and may the best two on the day win.
Clarence Hiles
Editor