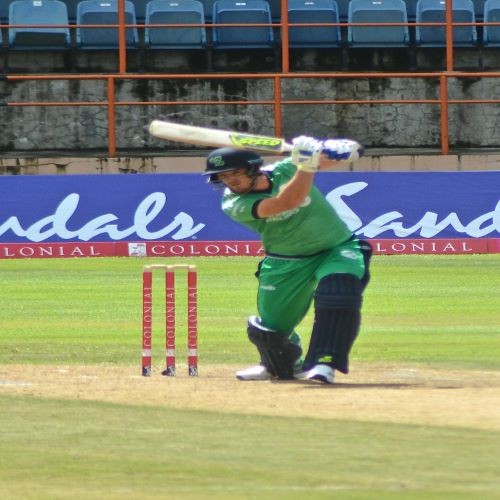 Beautiful sunshine welcomed the Grenada National Stadium for the 3rd and final match between West Indies and Ireland in the Colonial ODI Series amidst a few heavy showers. West Indies were already 2-0 up after the Barbados games.
Skipper Andrew Balbirnie lost the toss and Kieron Pollard inserted Ireland. There were two changes for the Irish team with the introduction of McCollum and Young at the expense of Rankin (injured) and Delany.
With opener Stirling (5) out of sorts McCollum (20) made a lively start, but Thomas removed both and the struggle began for premier batsman Balbirnie (pictured). Wickets fell frequently, but the skipper (71) was the thorn in the side of the bowlers, although O'Brien (21) and McBrine (25no) had short cameo performances. They finally reached 203, but it could have been better had the skipper received more support.
Two early West Indies wickets brought new energy from the bowlers, but once again opener Evin Lewis (102) was the main obstacle with another superb innings. Denied a century (99no) at Kensington Oval, he didn't miss out in Grenada with excellent batting. He was well supported by King (38) and undefeated Pooran (43no). A couple of wickets tumbled at the end, including Lewis, but the game was well won by that stage. The margin was 5 wickets, in a one-sided exchange.
A lot was learnt by Ireland in the three ODI games despite the agony of losing by one wicket in controversial circumstances in the 2nd match. However, that is now history, and we move onto the three T20 matches starting on Wednesday. The final two matches will follow in St Kitts later in the week. Ireland now has the chance to redeem themselves. Perhaps they will surprise West Indies on their doorstep!
IRELAND 203 (Balbirnie 71/McBrine 25no/O'Brien 21/Walsh 4-36)
WEST INDIES 199-5 (Lewis 102/King/Pooran 43no/King 38/McBrine 2-50)
DL target 197 in 47 overs
West Indies won by 5 wkts
JCH