It's that time of the year when awards are dished out at every level of sport and sometimes at the highest level, we wonder why cricket gets such a poor showing. This is particularly so in Northern Ireland where so many people give so much of their time and resource, almost totally at an amateur level. There's nothing wrong with honouring someone who does their job well, or who has achieved greatness as a professional sportsperson, but the highest accolade is surelyhonouring someone who does it on a voluntarily basis, and in such a way that they have enhanced the sport they belong to, brought a lot of enjoyment to others, and won the widespread respect of their peers.
We can't compete with the Texaco Sports Awards, the BBC Sports Personality of the Year Awards, the Belfast Telegraph Sports Awards or the New Year Honourslist, but here at the Ulster Cricketer we would like to pay tribute to our Ulster cricket 'Team of the Year.'  Here are eleven individuals who in our opinion have enhanced the local game in 2007, brought a lot of enjoyment to it, and won the widespread respect of their peers.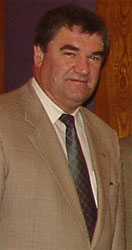 ROY TORRENS
The Ireland team manger became a cricket celebrity at Cricket World Cup 2007 and did a magnificent job promoting the Irish game and keeping the Irish squad cohesive and productive during their unforgettable fairytale ride in the Caribbean. His commitment to the cause and his boundless humour, even in the face of adversity, were tremendous.
KYLE McCALLAN
Another World Cup hero but this time on the field.We have known for many years about his exceptional talent but wasn't it something else seeing him perform with such distinction on the highest stage, and against the best players in the world? On and off the field Kyle was a true sportsman in 2007 and a role model for any aspiring young cricketer.
DAVID KENNEDY
An automatic choice, not just for his outstanding batting and the many fine innings that he played during the season, but for the way he played the game. Yes, there are many fine sportsmen throughout Ulster cricket, but not so many as sporting as big Davy at the top of the game.
BOBBY RAO
The ageless, peerless and at times fearless Bobby, continues to make an immense contribution to North-West cricket. He's never received the full recognition he deserved, but when historians look back on the development of Ulster cricket and the part played by 'overseas' professionals, don't be surprised if the name of Bobby Rao tops the list. Even in 2007 he's still a magnificent player, coach and mentor.
RICHARD JOHNSON
Cricket has been blessed with many fine administrators, but not all get the recognition they deserve. Richard Johnson is an exception, and it is a tribute to his ability and integrity that almost everyone associated with the game acknowledges his massive contribution in the past decade.
LAWRENCE MOORE
Everyone knows a lot more about North-West cricket these days because of Lawrence Moore! Journalist, umpire, cricketer, columnist or prolific email correspondent, he's certainly got his finger on the pulse of cricket up the M2 and he has that uncanny knack of 'stirring the pot' without being offensive. And if he's not the source of breaking news, he's pretty close to it!
JOHN PATTON
The noble art of cricket scoring has been in decline for years but happily there are some talented new recruits still coming through. We have many loyal 'old hands' and if we single out North Down's long-serving scorer John Patton it is because he's been such an unsung hero of the game and one of the nicest people you could ever meet. A true gentleman of Ulster cricket.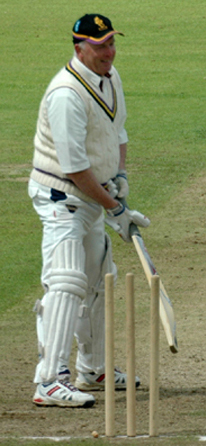 BILLY 'BUMPER' DALE
In his 60th. year 'Bumper' Dale has all the enthusiasm of a teenager and once again proved himself in the top section of NCU cricket. There can be no keener player in the local game and if his antics ruffle a few feathers from time to time then wait until you are his age and see if you are as agile, as committed and as successful.
IAN CALLENDER
Without doubt the finest Irish cricket journalist of his time and arguably the most committed ever. Measured in cricket terms he's up there with Monteith, Corlett, Anderson, McCallan et al. His comprehensive coverage of cricket in the past 20 years has been phenomenal, and well beyond the call of duty. His tremendous knowledge and love of the game shines through at all times and if he doesn't always write what a reader wants to read, does that make him a bad person? A true pro in sport journalism.
CONNIE McALLISTER
Ace North-West umpire and former Ardmore spin bowler with a boundless sense ofhumour and the 'gift of the gab.' Connie can lighten the most serious discussion and bring us back to reality with his sharp wit his bevy of hilarious stories. For entertainment alone he's a are gem and one of the most popular white coats around.
ALFIE LINEHAN
He's seen it all and in Irish cricket terms he's done it all, but most Saturday afternoons Alfie will be on the boundary watching his beloved Downpatrick. Through thick and thin he's supported his club, especially during such a tough season as 2007. Isn't that what loyalty is all about? What an inspiration to us all?

Sorry guys there are no lavish dinners or gongs to go with your selection on our 'Team of the Year' but the Ulster Cricketer pays homage to your huge contribution to our cricket in 2007.
Thanks.
Clarence Hiles
Editor