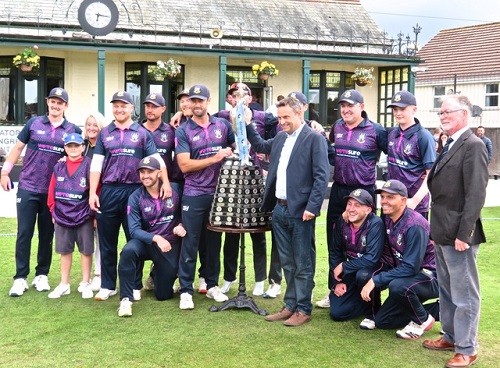 The 2021 season will be remembered for glorious sunshine in June and July, and rampant batsmen. Sadly, it was tough for bowlers, a reflection of changing times with covered pitches, leg-side wides and LBW rules. It was great for batters, and they scored heavily at all levels, including schools, youths and Women's cricket.
One thing is certain. You can't compete at the highest level without overseas recruitment as professionals are here to stay as long as clubs can afford them!
Carrick had all guns blazing in June winning the Lagan Valley Steels T20 cup, and had several league wins to follow. However, injuries and loss of form spoilt their chances to compete with the top performers. As it turned out, Waringstown and CIYMS collected the silverware, although North Down will lament a weekend nightmare when they lost at home to CI in the Gallaghers Cup final and two days later were defeated at the Lawn when the Comber men were poised to go level with Waringstown at the top of the table.
Waringstown effectively won the Robinsons Services Premier Senior league that weekend, although North Down finished runners-up and in doing so avenged their cup final defeat at CI in the league.
The Villagers were worthy league champions and will rue the opportunity to contest the senior cup after a registration rule breach. Ironically, apart from Waringstown, each team was capable of winning against each other, and although Lisburn finished bottom the margin was slim.
Cliftonville Academy, Cregagh and Derriaghy were top of Division 1 by a distance, but in the fickle margins of run rates Derriaghy lost out. Winners Cliftonville Academy and Cregagh were promoted to the Premier division after the AGM decided to increase the division to ten from 2022, but many people feel both will have a tough baptism against Ireland internationals, Interprovincial players and overseas professionals. Fortune favours the brave so good luck to the newcomers!
One of the star performers was Lurgan who won Division 2. A lot of work took place in the pre-season as some felt the club might fold, but what a transformation! Dundrum finished runners-up, narrowly ahead of Laurelvale, although they had a terrific season winning the GMcG Junior Cup against favourites Lisburn Seconds, the Junior League Division 1 winners.
All three clubs deserve great credit for their work on and off the scene, but what has gone wrong with Holywood? A couple of years ago they were touted to reach the Premier league, but now finished bottom of Section 2 and failed to field players across both Senior teams regularly forfeiting games. It tells a sad story after it promised so much for a Club steeped in tradition and many successful seasons
As expected, Drumaness Superkings resurrected the club with league wins at firsts, seconds and thirds. Once again, a club that was close to fold has found a happy ending, in sharp contrast to Downpatrick. It would be a tragedy if Strangford Road were to close its doors, but without players to field teams speaks for itself.
Within a few miles, Dundrum, Saintfield and Drumaness are clubs that defied the odds, so now is the time for Downpatrick to get its act together! The NCU and other clubs want to help, but the club needs a more resourceful and visionary committee to canvass the schools and attract new members like Drumaness. Advertise in the Down Recorder, and hold a public meeting to generate interest and enthusiasm.
It would be a shame if Downpatrick folded and were lost to NCU and Irish cricket.
Inst has dominated schools cricket for many years and it was no surprise that the 1st and 2nd XI contested the Ferguson Grainger Schools Cup final. Civil Service North Women won the Gallaghers Challenge Cup after they beat North Down and it is great to see the women's game continue to expand and develop in the NCU.
Overall it has been a tremendous season, spurred by excellent weather, but it would be hollow if Downpatrick don't survive!
JCH