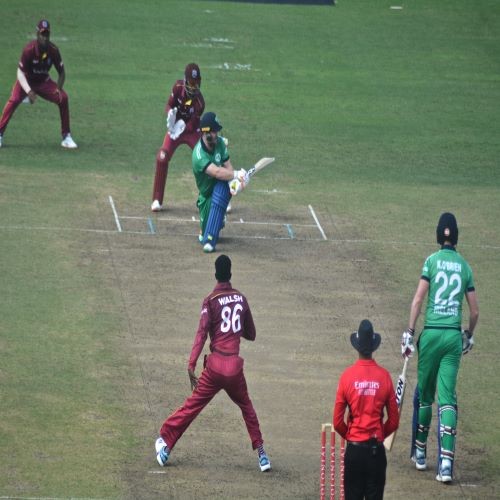 Ireland may have disappointed last Tuesday, but they produced a thriller against West Indies in the second ODI Colonial Series at Kensington Oval on Thursday. They lost by one wicket with just two balls left in the last over and players and fans were deservedly gutted.
Once again skipper Andrew Balbirnie won the toss and elected to bat, although many people around wanted to see the West Indies bat first. The Ireland team was unchanged and the batsmen started much better, primarily Stirling (63) with some terrific shots. However, Joseph (4-32) stifled their attack and promising stands didn't materialise into the high score that was really needed. Porterfield (29), O'Brien (31) and Singh (34) didn't make the most of their enterprise. Ireland reached 237-9 - a reasonable target for the Caribbean stars.
Ireland's opening bowlers McCarthy and McBrine pinned the WIndies from the outset and at 24 for 3 Ireland were well on top. The addition of Rankin's pace was huge, but leg spinner Delany had a poor opening over conceding 15 runs and the initiative swung back to the West Indies. To compound matters Balbirnie gave him a second over and 15 runs became 33! Pollard was ruthless and from Ireland's terrific start the West Indian skipper (40) and Pooran (52) added a 74 runs partnership and the Windies were well on top.
McCarthy bowled brilliantly (2-28) and captured the wicket of Pollard, caught and bowled. At 148-7 Ireland were back in control, but once again the Windies rallied and Walsh (46no) and Joseph (16) added a crucial 52 run stand.
The balance swung again, but there was plenty of drama to follow. It came to the final wicket amidst run out misses, catches that dropped tantalisingly between fielders and a huge run out decision from the TV umpire that ruled in favour of the batsman. And just as Ireland looked to win an epic victory Cotterell hit a six to win the match and clinch the series for the Windies.
Wow! What a terrific match.
Now on to Grenada on Sunday!
JCH