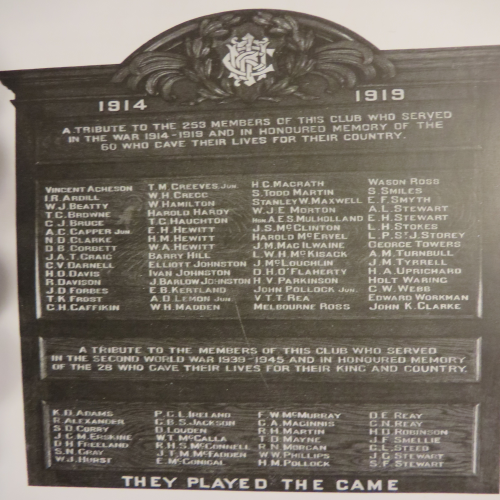 ...Second Lieutenant John Arnott Taylor Craig, Lieutenant William Magee Crozier, Major George Horner Gaffikin, Second Lieutenant William Henry Gregg, Rifleman Thomas Hanna, Lieutenant Thomas Greenwood Haughton, Lieutenant Holt Montgomery Hewitt, Second Lieutenant William Arthur Hewitt, Captain Barry Hill, Lieutenant Colonel Lawrence Arthur Hind, Lieutenant Nathaniel Frederick Hone, Captain Elliott Johnston, Lieutenant Archie Dunlap Lemon, Lieutenant Sidney Todd Martin, Captain Douglas Hill O'Flaherty, Lieutenant John Pollock, Lance Corporal Jack Milliken Spence, Major H.A. Uprichard got in common?
Answer-They all died on the first day of the Battle of the Somme, 1 July 1916.
These twenty men are part of "Cricket's Lost Generation: the Great War 1914-18" which is the title of a paper which will be delivered by Dr. Pat Bracken, a Tipperary based sports historian who has a particular interest in the history of cricket in Ireland, at the Sports History Ireland Conference in Maynooth, Co. Kildare on 12 September.
Pat has been researching cricket players of all abilities who died during the First World War and he has compiled brief biographies on 240 men so far identified. Of these the most that fell on one day was at the first day of the Somme and he feels that the 100th anniversary of the start of this battle would be an opportune time to recall the memory and sacrifice of all those who died or were injured during these years, and who had a cricket connection, no matter how trivial, with the game in Ireland. However, Pat also feels that he could easily miss out on men associated with cricket clubs all over Ulster who died during the war, and to this end he would welcome details from anyone who could supply him with information on any man or woman who served with the Forces and who fell in action during this dark period in world history. To quote a famous line from "For The Fallen" by war poet Laurence Binyon-
"At the going down of the sun and in the morning, we will remember them. "
Pat's email address is cricketresearch@gmail.com if anyone has any information or sources, which they would be willing to share with him.
The period of the Great War 1914-18 has particular significance to cricket clubs in the north as many young cricketers were called into service throughout the towns and villages of Ulster. The gallant men and women who made the supreme sacrifice are remembered on monuments throughout the Province and some clubs like the old North of Ireland, North Down, Lisburn and Waringstown have honoured their fallen cricket members in their histories. However, Pat's research is a much deeper study and a gallant attempt to collate the names of every known cricketer with Irish heritage or connections.
It deserves our full support. Hopefully the work will stimulate cricket clubs and unions to commemorate the 100th Anniversary of the Battle of the Somme from a cricket perspective as the 36th Ulster Division suffered horrific losses in the first few days of this infamous battle.
Clarence Hiles
Editor