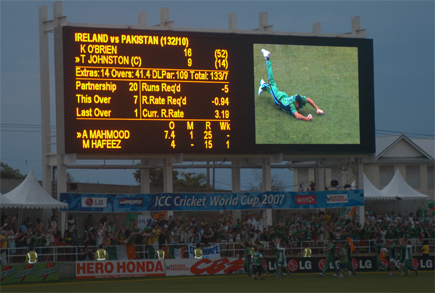 Clarence Hiles reports from the Caribbean...
It's the day after the night before and if there was any doubt that Ireland had not registered their presence at CWC 2007 that all disappeared yesterday on the greatest day in the history of Irish cricket.
Our victory over Pakistan will go down as a monumental day for Irish sport and what a tremendous display from the team on St. Patrick's Day.

Ireland may have got the rub of the green with the toss but they bowled and fielded magnificently and nobody could deny they batted in atrocious light conditions with a least two horrendous umpiring decisions against them. The Pakistan players had much to lose and it showed in their poor sportsmanship and the seedier side of their gamesmanship but the Ireland players took the higher ground and at the end of the day, the laurels.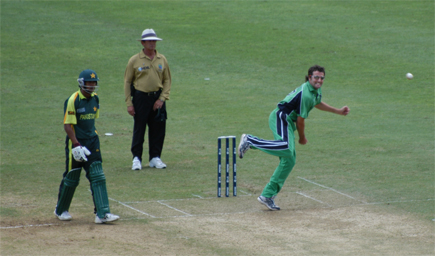 After the post game celebrations the squad made the two-hour journey north to the Sunset Grande Hotel at Ocho Rios for the St. Patrick's Night Party of all time. It was a night of fete, music, food and enjoyment with the Duffy's in full flow. It was a Who's Who of Irish sporting and cricket personalities all united in admiration for a remarkable achievement, none more so that former Ireland batsman "Ginger' O'Brien who earlier with his wife and daughter had proudly watched his sons Niall and Kevin play the games of their lives.

They were heroes amidst many and if we gloated and celebrated a lot then it was simply recognition of this superb achievement.

And to do it on St, Patrick's Day, what a bonus!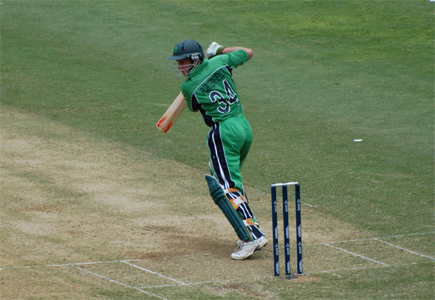 Roll on the Super Eight and watch out for a few changed travelling schedules.