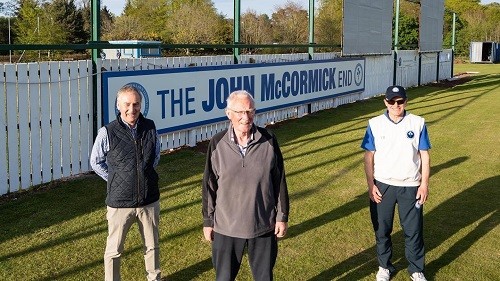 Earlier this week Muckamore Cricket Club unveiled a "new end" on the main pitch 'The John McCormick End'.
The term Legend is used very often in sporting circles in the wrong way. But not this time because John McCormick has been and is the club's greatest ever servant with nearly 60 years of service, serving as President, Chairman, Committee Member, Grounds Convenor and Club Captain. He has been the driving force behind everything good at the Muckamore club for over half a century and there is no one who deserves this more than him.
President Ivor McMeekin commented, ''I think I speak for all the players who played with and under John that he inspired us all. Among his peers are many great club men in their own right but we all recognise John as Mr Muckamore. John has a passion for this club which may never be matched. John is the definition of a true club man and richly deserves this honour the club are bestowing on him.
Your contribution to our club is unrivalled John and we can't thank you enough. Today's present and future players will now always have you looking over them and encouraging us all on at Moylena"
True LEGEND that is John McCormick