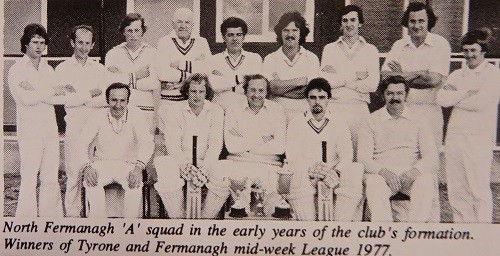 In the final article of the series Clarence looks back at the old Fermanagh & Tyrone League and the more recently formed Border League.
FERMANAGH AND TYRONE LEAGUE
My first introduction to Fermanagh and Tyrone cricket was midweek in the 1970s, usually on Wednesday evening, when Tom McCormack, the Ulster Bank Manager in Clogher, recruited me to play for Clogher and Fivemiletown. I played several times when I was in the area selling financial services for the Provincial Building Society. Tom had starred for Instonians in the 1962-64 era when they won the NCU Senior League. I always had a room at his home in the Ulster Bank and spent some great evenings in his company.
The big match was always against Kesh, home or away -20 overs. Tom always telephoned me earlier to ensure I was in the area at the time. It was often to play against Kesh and face his big opponent Bob Kerr. They were great rivals, and it was always a battle of wits as much as the cricket exchanges. For this match Tom often recruited a few others, and I'm sure Bob did the same. However, I'm not sure about the ethics as I played under the name Richard Atkinson! We also included an Irish International hockey player Davy McManus from Cookstown HC, ex-Armagh CC, and Tom's nephew Jimmy Campbell from North Down from time to time to add to the recruits. Registrations were not so important in those days, fielding a team was more important than bureaucracy!
In those days, before the Clogher Cricket Ground was developed, home matches were played at Fivemiletown High School. The game was played on matting on top of an all-weather ground. It was very hard and Tom and I opened the batting and the bowling. We lost more than we won, but we were competitive, and Kesh knew that. Of course, the game was often the preamble as we usually went back to Clogher to Whiteside's Bar for a few drinks and sometimes poker!
I played a few games in the late 1970s and when I moved to the higher echelons of the Northern Cricket Union over 20 years ago we met with the North-West Cricket Union to form the Northern Ireland Cricket Association.
Can you imagine who I met at the table to discuss?
Yes, you guessed it the same Bob Kerr!
It was the first time since the 1970s, and when we shook hands, he said my face looked very familiar! It was uncanny, but when we met for the second time, I confessed my identity. He laughed and said "Tom McCormack was always a wily skipper!"
I enjoyed Bob's company and his camaraderie and, when he was elevated to President of Cricket Ireland, I always felt it was thoroughly deserved as he loved cricket and made a huge contribution to the Fermanagh area and the North-West. Sadly, Bob was denied his greatest moment. He had a heart attack in Ocho Rios, Jamaica, when Ireland beat Pakistan on St Patrick's Day 17 March 2007. There was a huge party at the hotel, but the celebrations dissipated when we discovered what had happened. Bob died a few days later. It was a terrible shock for everyone. Bob played a big part in the development of Fermanagh cricket.
My good friend Peter Orr from North Down CC was working for the National Provincial Building Society in Omagh and he also played a few games in the early 1980s with talented ex-Woodvale player Ian Carroll. He confirmed it was Kesh who provided the biggest challenge.
The Midweek League dwindled over the years and eventually folded. However, Kesh Cricket Club changed to Western Counties and then to North Fermanagh, which is currently affiliated with the North-West Cricket Union. The Midweek League faded because of the difficulty to recruit players, although Clogher Cricket Club was formed and for a short time played in the Northern Cricket Union.
Midweek cricket in the rural areas of Fermanagh and Tyrone faded, but in recent times a small group introduced an innovative league in the heart of rural cricket with the catchy name, the Border League.
THE BORDER LEAGUE
The first Border League exchanges stared in 2014 between Clogher and Monaghan in a 7-match series. Roy Nicholl from Clogher CC is credited with the innovation, and the following year Portadown Taverners and Dungannon were added. It seems they found a better formula to play Midweek cricket between towns that were close to one and other. There were other issues regarding Saturday cricket within the NCU with longer distances and player unavailability. Clogher, Portadown and Dungannon eventually decided to withdraw from NCU Saturday cricket, and at the time Monaghan CC was an emerging club. Also, the Border League had more flexible rules and regulations regarding fixtures, with an emphasis on social cricket. One excellent innovation was the 8-ball 15 overs and when a bowler was guilty of a wide ball the opposition received 2 extra runs instead of another delivery. In particular, it helped the inexperienced and young players were given the opportunity to play without punitive action from an Umpire.
Portadown Taverners won the inaugural competition in 2015, and in due course other clubs were added Millpark, Waringstown and Victoria. The fact that they continue speaks for itself after six years. Of course, different clubs have different reasons, despite some fiery exchanges as the season reaches an end in mid-July. For example, Waringstown and Victoria have a surplus of players on Saturdays, and Midweek matches seem to be a sensible approach to keep cricketers involved. Victoria has a few older players who prefer shorter Midweek matches with less pressure and the social camaraderie that follows. Monaghan have two Saturday teams in the NCU, and they are an ambitious club. They see Midweek cricket as a stepping-stone to Saturday cricket, but they are still very competitive.
The Border League clubs are not confined within their group as Clogher have played Enniskillen and Portadown Taverners have hosted the Ulster Grasshoppers CC, a nomadic club in existence for some 40 years.
The Border League works well for everyone in close proximity, and good luck to the League for the future.
JCH