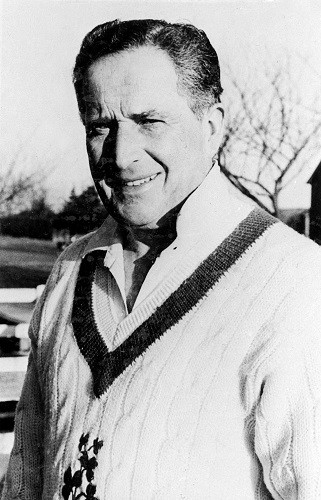 Part 4 looks at the....
MID-ULSTER CRICKET GROUP
Former Ireland international bowler Wesley Ferris founded the Mid-Ulster Cricket Group in 1963 with a membership of 10 clubs. It expanded quickly with Wesley's boundless enthusiasm, organization skills and vision. Wesley filled the niche that the other Provincial Unions lacked, and in its heyday, there were over 100 schools and 140 adults involved in Mid-Ulster cricket competitions.
James MacDonald the distinguished dual Ireland international cricket and hockey star was also the headmaster at Regent House Grammar School and a veteran of both NCU and ICU Executives. He rebuked the Unions for their over-concern of administration and neglect of young players. The NCU took his rebuke to heart and over the following years set up the Ulster Schools committee in 1966 and the Colts Cup in 1971.
But Wesley was before his time. He expanded his network to include Leinster and the North-West and organized tours to Canada and USA in 1968 and Israel and Cyprus 1978.
I was included in the tour to Israel and Cyprus and it was a wonderful experience, thanks to Wesley. The party was taken from North-West and NCU clubs, many of which I would never have played against normally. The fellowship and camaraderie have lasted forever, and it was a privilege to be with those players.
The tour lasted for 17 days and included 11 days in Israel and 4 days in Cyprus before returning to play a 'Test' match in Tel Aviv 2 days later. We visited Jerusalem, the Mount of Olives, the Old City, the Wailing Wall, Bathsheba, the Dead Sea, Jericho, Sea of Galilee, Tiberius, Nazareth, Masada, Capernaum, Haifa, Caesarea, and Tel Aviv. We were entertained by the British Army and RAF at Happy Valley in Cyprus and lost for the first time to a strong Army team including Nigel Scott. We won the 'Test' match at Tel Aviv to end a wonderful experience, with a host of memories, thanks to Wesley.
He was an astute Treasurer and drew support from all over the world, including a plethora of subscriptions from over 80 members. Hon. Life Members were a Who's Who that included former Prime Ministers, Govt Ministers, Earls, Bishops, and Cricket Past Presidents. Wesley's passion was cricket, the Boys Brigade, and the Church.' He later became a Lay Preacher in the Presbyterian Church.
His committee has often been quoted, as being a 'one-man show' such was his detail for organization as he personally presented many of the trophies and attended the finals. His Group made many thousands for various charities, and his legacy is that it continues today, albeit the other Unions absorbed it when Mid-Ulster Cricket Group folded. Unfortunately, Wesley's zeal was not shared when he was ailing. He died in 2001, and the Group was without a leader, and it folded in1999.
JCH