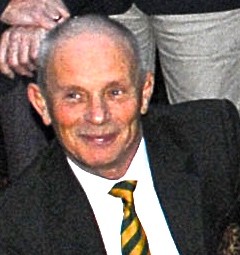 Part 2 takes a look back at another of the Ulster Leagues -
THE DUNDONALD LEAGUE
I played with Don and Ian Shields a lifetime at North Down Cricket Club, and often heard about the Dundonald Cricket League, but never knew about those colourful characters that were involved. Don is a great storyteller and provided the details.
Don recalls…
"In the days when the highs of the 1930s had long gone and the struggle to keep afloat was real, with falling membership and few trophies in the cabinet, a new adventure for the enthusiasts was born. Great fun was had in the late 1950s when teams like Ballydrain, Ballystockart, Cherryhill and Millmount played in the summer evenings for sheer enjoyment. These teams featured players, who had played at the highest level, those who had never been affiliated to any club, and much younger ones who later went on to greater things under the NCU umbrella, when they left the precarious cowpat dappled fields to play at Ards, Shorts or The Green.
They mostly featured enthusiastic players who did not aspire to any dizzy heights, or elder statesmen who had played their part in the good times, but all brought a great charisma to the game. Charlie Wilson, Orr Morrow, James Caughey, Ray Gibson and David Shannon epitomised these keen cricketers, from all walks of life, willing to devote their evenings to clearing a field and organising a game. The league was not short of 'characters' like the eccentric Francie McLaughlin who, with Caribbean demeanour and running commentary, bowled his flighted leg- spin. His 'trial' at North Down didn't run the full term!
When Ballydrain won the league, the team was feted in the British Legion Hall in Dundonald, where they were presented with commemorative ties. James B Caughey, an enthusiast and Headmaster of Ballydrain Primary School, led the side, with Billy Shields, Raymond Crosby, Gerry Spence, Willie Watt, John Shields, and Miller O'Prey (sen), as the experienced cricketers in the ranks. Raymond McIlveen and wicket- keeper Bert Jordan were joined by youngsters Wilmer McKibben, Don Shields, Sammy Alexander, Ronnie McBurney, Wesley Graham and Ian Shields, who learned the game playing beside their illustrious seniors.
North Down's scorer for many years, John Patton, had close connections with the Ballystockart team and had many tales to tell of the intriguing personalities who did battle in the fields around the countryside in the summer evenings.
After the construction of Moat Park, all games were switched to Dundonald, although facing quickies like North Down's erratic Ronnie McBurney or Jack Dalzell at this venue was a frightening experience."
Great tales, thanks Don.
JCH