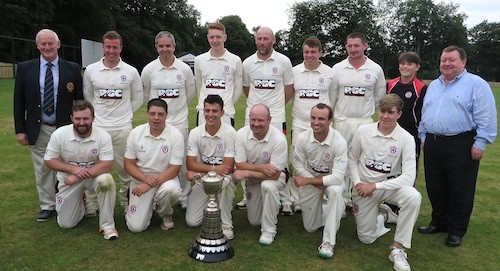 Templepatrick Cricket Club will be hoping for a successful 2019 season as the club celebrates its 50th anniversary.
Founded in the Co Antrim village in 1969 by a group of Old Boys' League footballers, the club has been on an incredible journey over the past five decades. Based at The Cloughan in Ballyclare since 1994, the club will this season field five senior sides for the first time, as well as a ladies' team and A and B youth teams at U11, U13 and U15 age groups.
Last season was the most successful in Templepatrick's history. No fewer than six league and cup successes at adult and youth level, including a hat-trick of trophies for the First XI, that saw the club named runner up in Cricket Ireland's Club of the Year award.
Looking ahead to this season, which got under way for the 1st XI with a friendly win over Belfast Superkings, club captain Ross Bryans said: "After an incredible 2018 season, I am very excited for our squad to be back competing in Section 1. We have the same squad that performed so well last year, and with that comes great cohesion, and I am excited for the season ahead."
All-rounder Bryans, who recently returned from playing in New Zealand where he was key in helping club side New Plymouth Old Boys win the one-day and two-day competitions, said he is hopeful that Templepatrick First XI can challenge for a place in the top four of the Section 1 league table.
Looking forward to a season of anniversary celebrations, Templepatrick CC chairman John Busby said: "We've made tremendous strides over the last 50 years since our rather humble beginnings, and are now one of the largest clubs in the NCU with five senior teams, a ladies' team and six youth teams.
There are several events planned over the season to celebrate these achievements, culminating with a special 50th Anniversary Dinner at the Hilton Templepatrick on Saturday 14 September.
We are also organising a 50th anniversary President's Tea in June. Arthur Bowron has been our President for 25 years and is a founding member of the club. To mark his dedication to the club over so many years we will be providing a special tea at our 1st XI game with Downpatrick at The Cloughan on Saturday 22 June.
We would like to invite all past TCC members to come along and have tea with us and celebrate Arthur's 50 years of dedication to TCC and at the same time support our 1st XI in action out on the pitch.
We also plan to have a TCC Select play an NCU President's Select and a TCC Old Boys game, but no dates have been set for these as yet. 2019 promises to be a busy year for the club both on and off the pitch, but we're all looking forward to catching up with old friends and teammates."
Anyone who would like more information about Templepatrick CC or its upcoming anniversary events should email TCC Cricket Development Officer Andy McCrea at mccrea.a@sky.com or check out the Templepatrick Cricket Club Facebook page.