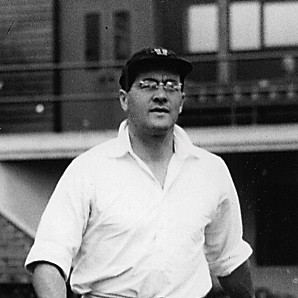 Stuart Pollock has died at 96. He was the oldest Ireland international at the time. He was as outstanding sportsman, and strode like a Colossus in Ulster Sport. He also served with distinction during World War 2.
Edward Liddle has produced an excellent Obituary on Cricket Europe website and his records are well documented in "A History of Senior Cricket in Ulster" by Clarence Hiles and "Ireland's 100 Greats" by Gerard Siggins and James Fitzgerald.
A charming ambassador throughout Ulster and Ireland sporting circles; he was Irish Cricket Union President in 1980. He also gave sterling service to the Sports Forum and Sports Trust, and was elected Captain at Royal County Down Golf Club. He was also a former President for the Leprechauns Cricket Club and for several times was Captain at North of Ireland in the post-war era.
During his career he shared many sports including Ireland at cricket and squash international level. He also narrowly achieved rugby and hockey at this level.
Stuart inherited a rich cricket legacy from his father Willie, was one of the best batsmen in Ulster cricket and also a former Ireland player.
Stuart was a key figure at North of Ireland and was bitterly disappointed when "Headquarters" was subsequently sold. His closest were the finest at North in his era, including Donald Shearer, Jimmy McKelvey, 'Sonny' Hool, the Morgan brothers and the inimitable Willie Webb. He was a brilliant batsman and cover fielder, and his prolific records bear testament at North, where he reigned supreme. His cup and league record were impressive, and he also represented MCC and Free Foresters. Unfortunately, he was denied of other successes because of war service. He won 41 Ireland caps, although in happier times he might have won further honours. He was 12th man as a teenage several times before he first played at Scotland in 1939. His career finished in 1957 with 64 against the Free Foresters. He was invited to Captain cricket North's Centenary in 1959/60, but eventually retired due to back problems. In 1962
In later years he lived at Dundrum nestling under the Mountains of Mourne and nearby to his second love at the Royal County Down fairways. In latter life he spent peacefully at a Home in Killyleagh.
JCH