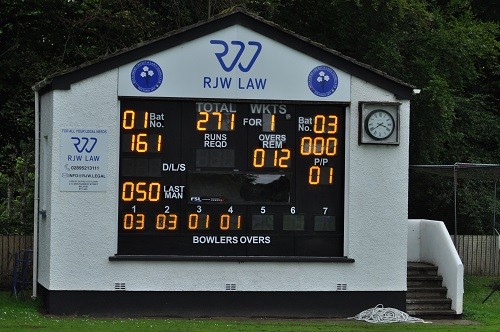 NCU Section One club Muckamore CC left no stone unturned in their quest to have their scoreboard updated into a new state of the art version. And what a great job it has turned out to be. It had its first use during last Saturday's match against Downpatrick CC and in the words of Chairman Trevor Barnett "The Scoreboard looked great".
The Club appointed Cartwrights Sports to manage the project and Cartwrights worked in association with FSL Electronics to complete the work. So, if your Club is thinking of enhancing its scoreboard get in touch – john@cartwrights-sports.co.uk will be happy to help.
The new electronic scoreboard at Muckamore is a 42-digit board providing all the information to keep players, umpires and supporters up to date during the game. It even has an umpire's light on it acknowledging officials' signals!
Michael Wilson, Muckamore PRO takes up the story on behalf of the Club……..
"Last weekend saw the unveiling of our new electronic scoreboard on the main pitch. This has been a significant project for the club and we would like to wholeheartedly extend our thanks to sponsor RJW Law for making this happen, without their support it would have never been possible".
RJW Law is a leading firm of Solicitor's who are based in Belfast, but who practice right across Northern Ireland. On the commitment of sponsoring this project, the principal, Raymond Wilson said,
''RJW Law are proud to be associated with Muckamore Cricket & Lawn Tennis Club as a main club sponsor to continue the advancement of cricket in the South Antrim area. RJW Law have been impressed by the vision and skill being shown by the club in consolidating its' position as one of the foremost cricket clubs in the Northern Cricket Union.
We are a firm of Solicitor's based in Belfast who work for private clients and companies in all areas of civil and criminal matters. Our expertise includes services to many ethnic minorities and the Polish community in particular, as we are an all-inclusive practice which believes in justice and fairness for all citizens.
We are confident that our contribution to the cricket club will sit easily with the ethos of the club to be community based.''
Please contact them today for all your legal needs @ -
info@rjw.legal or call the Company on 02895213111
From everyone at our club, thanks again 🔵⚪️
Well done to everyone at Muckamore CC and their sponsor RJW Law