Perhaps it was St Patrick who delivered the final blow as the result hinged on a huge slice of luck on a missed run out when Zimbabwe wicketkeeper Brendan Taylor missed his throw at the stumps with Stuart Thompson unceremoniously flattened by a Zimbabwe fielder as he dived for glory. If the result had not gone for Ireland perhaps there would have been an action replay on the tackle!
Like all Twenty20 matches this game had its ups and downs and it was ironic that all-rounder Alex Cusack was facing the final delivery as he had a nightmare with the ball conceding 53 off his four overs including 17 off the last. But it all came good at the end although the drama seemed unlikely after Ireland appeared to be coasting home with five overs to go.
Zimbabwe scored 163-5 and might have got more had it not been for the tight slow bowling of Stirling, Dockrell and McBrine in the middle of the innings. But it was the explosive opening stand of 80 from skipper William Porterfield (31) and the aggressive Stirling that set up the platform for a dramatic win although Andrew Poynter (23), Ed Joyce (22) and Kevin O'Brien (17) made significant contributions at crucial stages. O'Brien's big hitting was crucial and he sacrificed his wicket for the cause, although there were a few twists and turns to follow.
At the start of the final over Ireland needed four runs to win with five wickets intact, but Zimbabwe never gave up and two wickets fell in four ball before a single off the fifth tied the scores and set up the prospect of a golden over with the scores level. However, it was St Patrick's Day and the Patron Saint delivered his blessing and we move onto the next match in the qualifying round with a big scalp under our belts.
Paul Stirling was a deserved Man-of-the-Match for his whirlwind 60 off 34 balls and what a terrific display to set the tone for Ireland's Twenty20 campaign.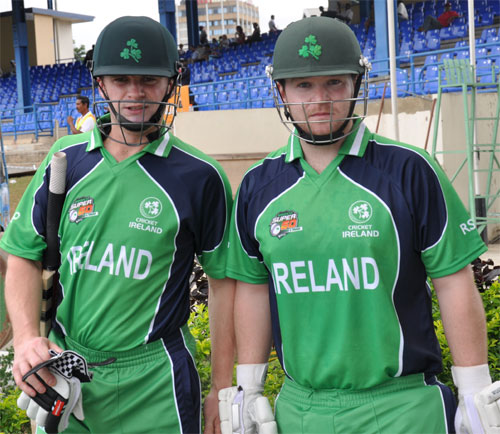 This win over the group favourites gives Ireland a tremendous chance to qualify, but nothing can be taken for granted in this type of cricket so it will be back to the drawing board on Wednesday against United Arab Emirates and then Friday against Holland. However, there a huge difference between starting off with a win rather than a defeat in a three-match qualifying round so has the platform has been set for another Irish cricket fairytale?
Oh that every day was St Patrick's Day!
Clarence Hiles
Editor