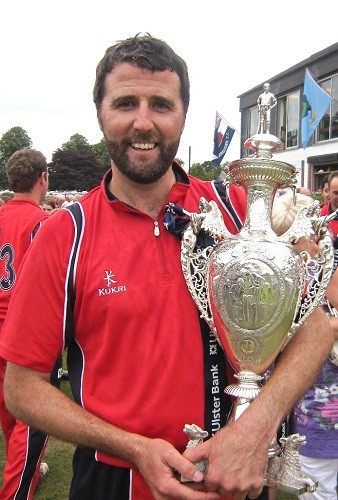 We start a new series today speaking with former Irish internationals about their international career, the highlights and superstitions and a lot more.
First up is a former captain Kyle McCallan, who led his country on 54 occasions. Kyle currently sits sixth on the list of most matches played for Ireland with 227 caps.
His international career coincided with a very special time for Irish cricket, the highlight being the 2007 World Cup in the West Indies.
Kyle scored over 3,600 runs and took 256 wickets in a stellar Irish career.
We pick up with Kyle....
When you started to play cricket what were your aspirations?
I started at Ballyclare HS, where I met John Solanky and I suppose my aspirations where to play for Cliftonville 1st XI. Representative cricket was just a natural progression. When I played for Ulster and Irish Schools I certainly aimed to play for Ireland.
My biggest regret is that I was too conservative in my aspirations – I simply wanted to play for Ireland. It wasn't until Adi Birrell came along that I wanted to make a difference and challenge myself to compete with the very best in the world.
Eoin Morgan made it clear as a teenager that he was going to play for England – he was remarkable that way. He wanted to be the very best in the world – I would love to have had that in me.
Who was the biggest influence on your career?
I was very fortunate to have a number of special people who were massive influences over the course of my career. In my early days, John Solanky was simply immense. A disciplinarian his favourite saying was 'no slogging in the nets boy!' He instilled discipline in all of the young players and pushed us to improve. It's no coincidence that when he coached at Lisburn, the likes of Uel Graham, Neil Doak and Derek Heasley were produced. In Cliftonville's case, myself and the Patterson brothers all went on to play for Ireland as a result of the foundations he laid.
We also had a number of outstanding other 'pros' such as Raman Lamba, Kamal Merchant and Gerald Dros.
Again, it is no coincidence that Kamal is coaching at Dublin YMCA and they are producing a conveyor belt of talent.
I lived in SA with 'Drossy' and that was hugely influential both in terms of my cricket skills but also in terms of learning about life.
Internationally, my career coincided with the first professional Ireland coach, Mike Hendrick who brought a much harder edge to things and was another hard task master – but he believed in giving the young guys a go and believed very much in us. It was Adi Birrell however who was the single biggest influence on me. Very early on in his time he pulled me aside and outlined my failings as a cricketer and a person and I'm grateful to him for that. He also outlined his ambitions for the Ireland team – he forced us to think big, he changed the mind-set. A prime example was a game against Nottinghamshire, when we lost a few early wickets and I got a 'sedate' 30 to make sure we got a respectable total. He admonished me for that – 'how exactly were you trying to win the game?' – the honest answer was I wasn't – I was trying to gain respectability. He inspired us to play fearless cricket and to back our skills to beat the best – and of course his legacy lives on.
Did you have a role model to aspire to?
I suppose all of the guys that I have mentioned previously were huge role models. I learned a lot from playing with Steve and Mark Waugh, Hansie Cronje and Jonty Rhodes too.
Few people reach your level. What was it like when you put on the Irish sweater for the first time?
Difficult to put into words, hugely proud day for myself and my family, extremely nerve -racking!
What do you remember about your debut?
Ireland batted first so I got straight into the game opening the batting, I don't remember how I got off the mark, but I think I scored 19 and it felt like a hundred! Bowling wise it was a dream debut – getting a wicket with my first ball in international cricket. Never mind that it was a short and wide long hop that the set batsman duly cut straight to Mark Patterson at point…they all count!
Your career is full of special moments. What are your favourites?
I was blessed to be part of a very special time in Irish cricket. The 2007 and 2009 World Cups were amazing experiences. The win against Pakistan at Sabina Park in 2007 is obviously the famous one, but beating Bangladesh twice were great wins too. I also have fond memories of the wins versus Surrey and Middlesex back in the early days, as they set the wheels in motion for what was to follow.
Personally, getting joint man of the match in the first Inter-Continental Cup win against Kenya was special. It was a remarkable game of cricket. Another personal highlight was bowling Brian Lara for a duck in the game after he scored 501*.
In a non-playing capacity, I was lucky to get to work with Sky Sports when I retired and it has been an amazing experience. Its great to work alongside the very best players to have ever played the game, I have made great friendships as a result. A special memory was in 2011 when I was in the studio with David Gower, Michael Vaughan and the late Bob Willis. Ireland were 100 odd for 5 (I think) and the former England captains were bemoaning the amount of time we were going to have to fill in the studio as a result of England obviously wrapping the game up early. Enter Kevin O'Brien! What followed was amazing and the sole Irish representative on the panel enjoyed our remarkable win as much as any games that I played in.
Many players have superstitions playing cricket. Did you have them and if so what were they?
I was a little superstitious – I always put my left pad on before my right when getting ready to bat. I liked to bowl with sunglasses on irrespective of the weather but perhaps the worst was that when I scored runs I never cleaned my socks or underwear until I failed!
What advice would you give to a young player today?
I'll use a phrase that the great Steve Waugh once imparted to me – 'if you put it in, you'll get it out'. There is no substitute for hard work and striving to learn every day. You might not get your rewards straight away, but with persistence cricket will repay its dues. I learned more from not playing a game in Malaysia 1997 at the ICC Trophy than I did when things were going well.
Irish cricket has developed rapidly in the past few years. Where would you like to see it go in the next 5 years?
Ideally, we need to expand the size of the playing pool, and therefore it would be great to see provincial sides playing semi-professionally/professionally as is the case in most other Test Nations.
Club cricket has largely been overlooked to accommodate inter provincial/international level. Has club cricket got a place in Irish cricket?
100%. Clubs play a vital role introducing players to the game and also developing talent. I wouldn't agree that club cricket has been overlooked to be honest. I appreciate that the National sides are the focal point for Cricket Ireland as they generate the vast majority of its revenue. There are many very successful clubs out there who are self-reliant and constantly trying to develop not just their playing capacities at all levels but also develop their facilities, coaching structures and so on. This is not easy but as I've said already – if you put it in, you'll get it out. There are no short cuts.
Do you think the likes of young Jack Carson at Sussex has a better opportunity to ply his trade in England rather than Ireland?
One of the challenges that Irish cricket faces is to become self-sufficient and to find a way to replace the role that County cricket undoubtedly played in developing the likes of Boyd Rankin, William Porterfield, Ed Joyce et al. Jack is currently with Sussex and I've no doubt is getting access to top quality coaching, facilities and a high standard of cricket and he will certainly be a better player for it – I also hope that he isn't lost to Irish cricket, as unless he plays for England he can come back and play.
Cricket Ireland has made huge strides over the last number of years with the development of the award-winning National Centre of Excellence at Abbotstown, but significantly the National Academy is clearly producing cricketers for the National side under the watchful eye of Pete Johnston. It is worth recognising that the Ireland Wolves have recently beaten Bangladesh, Zimbabwe and Namibia amongst others. They have also produced full international cricketers such as Mark Adair, Harry Tector, Lorcan Tucker and James McCollum to name a few.
Overseas winter tours, playing in a variety of conditions is hugely challenging for our young cricketers but will be invaluable in the long term.
International games in the North are poorly attended. What is the reason and could Irish cricket do more to make it attractive?
I think there are a number of factors to be honest. Cricket is still striving to compete against a wide range of other sports and interests. Young people nowadays can play and watch games that are very realistic on their Nintendo's, X-Boxes etc!
Timing of 'marquee' fixtures has also been an issue – on many occasions full members are only available to play on certain dates and times (midweek, April etc) where the weather is a factor and people struggle to get away from school and work.
I think its important that this is addressed and I'm sure that Cricket Ireland are looking at ways of doing this.