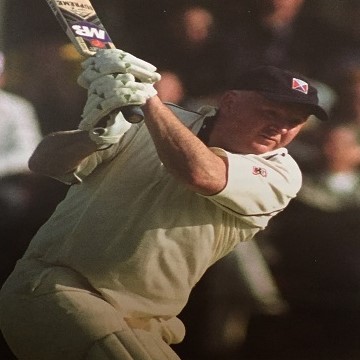 Next in our series we catch up with an old friend of mine the affable Jim Patterson. Jim was initially a bowling all-rounder who re-invented himself as a batsman, a hard hitting one at that!
Capped 40 times for Ireland Jim made his debut v Surrey back in 1984. His top score for Ireland was 84 v Scotland in 1990.
At local level Jim played most of his cricket at Downpatrick where he enjoyed considerable success wining three NCU Senior League titles, the NCU Senior Cup on three occasions as well as two Irish Senior Cup successes. Jim finished his career at North of Ireland winning the Cup once more in 1999.
Jim picks it up....
When you started to play cricket what were your aspirations?
At outset I just wanted to score plenty of runs and take plenty of wickets but most importantly to enjoy the great game that cricket is.
Who was the biggest influence on your career?
I don't think anyone had a big influence on my career. Coaching now, though, is at a whole different level but 40 years ago kids played the game with only their friends and few progressed to the top level due to a lack of intensity and so few games were organised back then.
Did you have a role model to aspire to?
I always thought Richard Hadlee was the most competitive cricketer playing the game at a professional level while Ivan Anderson was the most gifted and competitive local opponent I faced.
Few people reach your level. What was it like when you put on the Irish sweater for the first time?
Very exciting to be capped and forever to be known as an International cricketer.
I remember my Captain the late Dermott Monteith handing me the match scorecard at the Oval and telling me it was one to treasure as it had me incorrectly listed as Captain!
What do you remember about your debut?
Hot sunny day at the Oval with a rock hard wicket. Dermott saving me from going out to bat with an over remaining and the late Sylvester Clarke rushing in. Thankfully Dermott promoted the battle hardened Jacko to see off the big man and I made my batting debut next game at Malahide against Wales. Bowling that day at The Oval to Alan Butcher who never batted in anger he just caressed the ball around the ground on the lightning fast outfield.
Warkie MOM adjudicated by Trevor Bailey.
Your career is full of special moments. What are your favourites?
Winning at Waringstown was always a thrill on the local scene. Every game for Ireland was special. Hitting sixes was the most satisfying aspect of the game. Fast bowling shortens your life!
Many players have superstitions playing cricket. Did you have them and if so, what were they?
Never had any superstitions and my favourite number is 13.
What advice would you give to a young player today?
If you do not love the game think carefully about have you made the correct sporting choice. The game becomes a huge part of your life and can be very rewarding.
Irish cricket has developed rapidly in the past few years. Where would you like to see it go in the next 5 years?
I think the game will struggle unless players have sympathetic Employers as it is hard to compete with our counterparts in England. Money and contracts are vital in moving the game forward.
Club cricket has largely been overlooked to accommodate inter-provincial/international level. Has club cricket got a place in Irish cricket?
Yes, as players need to learn the skills that will be needed if they are to remain in the game long term.
Do you think the likes of young Jack Carson at Sussex has a better opportunity to ply his trade in England rather than Ireland?
Absolutely as any young cricketer will benefit from playing at a County.
International games in the North are poorly attended. What is the reason and could Irish cricket do more to make it attractive?
Weather tends to play a big part as so many international games have been washed out in the Province in recent years. I am dubious as to whether or not the modern-day youngster sees cricket as an enjoyable pastime due to the length of most games and the dodgy weather.