The decision of the Pakistan Court of Arbitration to uphold Shoaib Akhtar's appeal against a two year ban for having the banned steroid nandrolone in his system was bad for cricket and sent out all the wrong messages to the responsible governing bodies of sport that are fighting an almost impossible battle against drug cheats.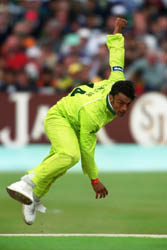 Only Akhtar knows whether he willingly took the steroid or not, but if he had an acceptable defence in claiming he didn't know about it, then it sets a dangerous precedent for all sports.
Why have courts at all?
Why not just ask the athletes and stand by their reply?
Fortunately the World Anti-Doping Agency (WADA) was not convinced that justice has been served and launched an appeal against the decision, but where does the International Cricket Council stand on the issue, given that they are a signatory to the World Anti-Doping Code? Indeed where does the opposition stand on such issues and is there a case to refuse to play against someone convicted of a drugs offence until they have either served their sentence or had their name cleared by an independent body. Shoaib did neither, but he had the benefit of a 'home' decision and was able to hide behind a seriously dubious ruling.
Shoaib and his test colleague Mohammed Asif were initially banned by the Pakistan Cricket Board but two members of a three man appeal committee accepted their plea of innocence, and surprise, surprise, the 'Rowalandi Express' was no sooner out of the courtroom than he was jetting off to South Africa to join the team mates in test action. No doubt the South African batsmen were just as bemused as the rest of cricket world as the fiery little speed machine tore through their batting and was the catalyst in a five wicket victory in the second test. However not one to hide behind his halo the oft controversial bowler also fell foul of coach Bob Woolmer and was fined for some petulance. A subsequent injury saw him withdrawn from the series and as he returned home after another short but controversial cameo, Pakistan cricket was once again left to lick its wounds.
Cricket will be the long-term loser in this sorry episode as worldwide observers will see the appeal decision as serving a Pakistan cricket interest rather than sporting justice, and the knock-on negative for the honest players from Ireland will be having to fend him off in the World Cup. That will come early for Ireland on St. Patrick's Day and there would be no better occasion than that to strike a blow for fair play.
That is of course, unless some responsible governing body of sport acts first and overrules the Pakistan Court of Arbitration.
Now wouldn't that be poetic and natural justice wrapped up in one lovely decision?