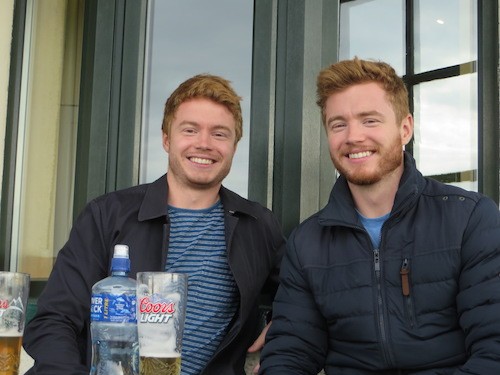 This is an article I have wanted to write for a while now, but the timing seems right with senior teams failing to fulfil fixtures and an increasing reluctance of amateur cricketers to give up so much of their time. Although many may think 'what does he know, sure he is only 19', I am actually 27 with 11 seasons of 1st XI experience behind me, albeit my recent returns may not merit a place for much longer! The idea is to discuss why I think players are becoming less and less willing to commit to senior cricket and pitch a few ideas of what can be done to remedy it.
When I think back to my first game of 1st XI cricket, I remember the excitement I felt on being selected. As I was still at school, I was training or playing relentlessly. Furthermore, when I got back from practice or a match, my brother and I would play in the garden; I couldn't get enough.
Fast forward to now, and my mind-set couldn't be further from the 16 year old about to debut against West, Moleon et al. It is somewhat appropriate that we were supposed to play Downpatrick at the picturesque Strangford Road ground but the weather determined our fates. That is part and parcel of cricket in this country but what was frustrating, and leads me on to the premise of this article, is that we travelled in the first place. There wasn't prospect of a game. Michael Fish taught us a lesson of not taking the forecast as gospel, and I agree to a certain extent, but on the morning of the game our Team Manager, Stevie Burns, had checked the Met-Office, BBC, Sky Weather and all pointed towards a day of watching the heavens open. Setting the alarm early, after a week of doing it for work, to drive an hour and watch rain fall for a couple more hours, and then to drive back is not anyone's idea of a good time (although we did get to catch up with fellow Grasshopper Ross 'Beej' Boultwood who talked us through how even his love for bowling is diminishing; I never thought that day would come). I must say, I don't blame Downpatrick for this; they are a team who can gain promotion to the Premier League whereas we are in the group of teams in Section one who are jockeying for 4th spot, but common-sense didn't prevail, and it seldom seems to.
Travelling to matches knowing full well we won't play a full game is one of the many reasons a number of us cricketers are becoming increasingly aggravated. My main gripe is the length of the matches below the Premier League. To me, we certainly don't need to play 50 over matches. I know many of the people who have stopped playing in recent years have sited the length of time cricket takes as the main factor. On a typical day before the 11am starts take effect in July, a home match would involve arriving at 1130am with the prospect of the game lasting until around 730pm, before pushing covers back on, getting showered and changed and, although less often than before, having a drink with the opposition (if any of them have hung around, not that I blame anyone who doesn't). Quite often it is a case of repeating this on the Sunday and before you know it's 7am on Monday morning, with a return of 4 runs, 2 wickets (both caught at cow corner off long-hops) and a month's RDA of tray bakes as your spoils.
The argument that we need players accustomed to 50 overs for when they move to the Premier League seems ridiculous to me. The difference of bowlers being allowed to bowl 8 overs and 10 is inconsequential. A 40 overs match would shorten play by over an hour, enough to potentially lure people out of retirement, or prolong negotiations they may have with their other half. Indeed, 48 deliveries is amble for the best bowlers to gain the sought after 5-for, with circa 120 deliveries certainly giving the batsmen the chance to score a hundred. Surely the higher standard gained by more quality cricketers playing, far outweighs the 10 extra monotonous overs in the middle of the innings where not a lot happens anyway?
Shortening the game also forces players to be a bit more expansive. Players cannot wait for the 5th and 6th bowler to come on and make hay. This pressure to score througout could and should encourage batsmen to improve the range of shots they have, thus not allowing them to become bogged down if they do get promoted to the Premier League, where the bowling is considerably more disciplined and wily. Bowlers too would have to develop their range of deliveries to negate the batsmen's more aggressive mind-set, which in turn will aid them against the vastly better batting line ups in the top tier.
A more radical move, which may lead to administrators shaking their head with increased vigour, is to play half of the league matches in a T20 format. In Section one, the T20 competition is a straight knockout which led to Bangor playing only one game in the shorter format this summer. As much as I think the likes of the IPL and other T20 leagues are silly with their 'strategic time outs' and 45 yard boundaries, the format is not going away anytime soon. As a player, it is a more interesting, enjoyable, highly pressured format where skills in batting and bowling are really tested and showcased (as Greg Thompson displayed in the final last week). Couple that with its flexibility where it could be a midweek fixture, potentially freeing up precious weekends, it seems like a win-win. At Bangor, our T20 matches are generally where we get our best crowds, relatively speaking. They get new faces down to the ground putting money behind the bar, potentially taking up the sport or bringing their kids to junior practice.
The reliance on professionals, which I think is unhealthily the case in Section 1, must be addressed. The number of times I have watched a professional smash our bowling attack around for a chanceless hundred is soul-destroying in the extreme. The other players have clearly been instructed to 'bat around' him leading to a farcical situation where the match is often determined by how well the pro can farm the strike from the remaining players. I appreciate professionals are here to stay, and many perform dual roles as invaluable coaches to our youth (in this facet, Bangor have been blessed in the years I have played). The professionals' dominance has led to a number of matches concluding with a 'what's the point?' feeling from a hollow and undeserved win, to a demoralising and embarrassing loss.
One solution could be to make professionals retire once they reach 50. This would force teams to look within when trying to muster the runs required. It could also lead to some interesting tactics of when teams decide to use their 'trump card'; do they hold him back for the last 10 overs? Do they put him in against the team's best bowlers in an effort to see them out? I think it is bizarre that at underage level the kids have to retire when they reach 50; surely this isn't allowing them to build meaningful innings that are required once they make the leap to senior cricket? I am digressing but I think it is ironic that a 14 year has to be penalised for being better than his peers whereas a professional who cannot qualify for Ireland can bat for as long as he wants, often to the detriment of the younger players batting below him.
Another idea is to play more games on artificial wickets, especially if the weather has rendered the other option as a bog with stumps at either end. Being frank, there are too many average medium pacers (myself included) and 'spinners' who can be unplayable of some of the wickets produced in our country. The weather and limited finances have a large part to play and that is understood, but why not allow games to be played on a flatter, truer, faster surface that allows batsmen to play a pull shot without fear of being hit on the shin, and bowlers to seek the outside edge instead of a batsman caught at short cover from a spitting delivery?
The opposing argument will always be that Ireland don't play on artificial wickets. True. I would counter that with the wickets found at county or international grounds are far closer in performance to the plastic wickets than the puddings we find ourselves playing on. Although my horrendously inadequate run tally this season is largely down to my own deficiencies, there have been a couple of occasions where a 65 mph bowler has bowled a good length for the ball to have spat, taken my glove and been caught by someone behind the wicket leading to another 'what's the point?' feeling. Artificials also lead to a consistent surface throughout the match which prevents any soft excuses being made by the team batting second. Other benefits include promoting fast bowling, spinners having to actually spin the ball, batsmen can play straight as well as being tested with short pitched bowling. I swear I am not a salesman for them but at times we are almost playing a different sport altogether from our counterparts in drier climates.
As much as the above sounds like one massive rant about the sport, with many potentially asking why I would play it (I ask myself quite a lot) I do enjoy so many aspects of it. The camaraderie, the nuances, the increasingly rare straight drive, the hard fought wins, the tours all make cricket worthwhile. The number and length of games, coupled with the increasing apathy has resulted in changes needing to be made, and fast. We can no longer bury our head and fall back on stats on participation that rarely reflect the reality that more club members doesn't equate to more available players. I really hope the powers that be listen to the player's thoughts, and endeavour to make the amateur sport, played for enjoyment, fun and accessible again.
Pictured: Andy and Mark Nixon