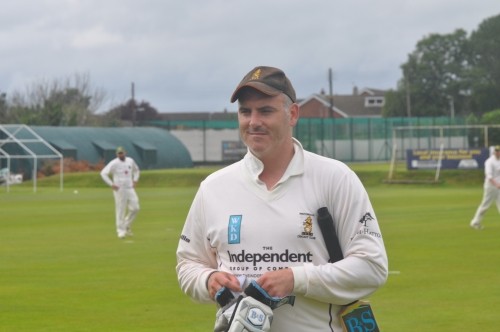 There are signs of revival at some clubs, but spare a thought for Larne and Dungannon who have yet to win a league game. Let's hope it comes soon.
We have also reached the semi-final stage of the Ulster Cup with three NCU teams ensuring at least one finalist will come from the region. It should be two as I expect Instonians to win at Eglinton and Waringstown to win at Comber, but if North Down plays with as much determination as they did last weekend with wins over Instoniands and Donemana there might be a surprise. South African professional Peter Malan goes into his third Ulster Cup match on the back of centuries against Bready and Donemana so he will be a big threat to the Villagers.
PREMIER LEAGUE
Waringstown hold a one-win edge at the top of the league and despite Carrick's fighting win over CI last week they will be hard pressed to repeat it at the Lawn. Several clubs will be hoping that they do, but not Lisburn who travel to Shaw's Bridge to face Instonians. The Old Boys slipped up at Comber last week, but should bounce back quickly in their quest to retain the title. North Down travel to Ballymena and the home team will certainly have this match on their radar to win as the young Comber side fight to resurrect former glories. This could be a close game, but with Peter Malan and Peter Eakin in top form it should go North Down's way. Another close game is expected at Belmont where CI can't afford to slip up against neighbours Civil Service North if they are to maintain their league challenge. Carrick showed that CI can be beaten despite their formidable array of talent, but I don't expect it to happen two weeks on the trot unless Wayne Horwood has one of those days with the bat!
SECTION 1
Derriaghy have made the most of their mid season surge to the top of the table and with Downpatrick and Bangor slipping up they have emerged as Muckamore's biggest threat for the title and promotion. The Moylena men have three games to catch up and must win on the road at Lurgan. The same could be said for Derriaghy at Bangor, but I feel the Seasiders will bounce back on home soil. Academy travel to Donaghcloney on Saturday and Lurgan on Sunday in two games that could define their season. Two wins would be a terrific boost, but they may have to settle for a Saturday win. The North Belfast derby between Woodvale and Cliftonville might come down to how the Ballygomartin Road team fares against Johnny Terrett and Neil Cahill as so much depends on their batting if Clifftonville are to edge away from the relegation zone. It's a big ask, but I don't think they will win on the road this week.
SECTION 2
This is the tightest promotion battle in the NCU leagues this season and although Armagh has a slight edge they are being hard pressed by several other worthy contenders. Poor old Larne are in basement position and although they might feel confident in lowering the colours of visitors Dundrum it will be a shock result if they do. BISC has reversed the venue with Holywood and that's the only favour they'll get on the road as the home team keeps up their title challenge. Saintfield could do everyone a favour if they win at Armagh in a huge match, but I favour the home team and I also expect Cregagh to win at home to Laurelvale.
Victoria may not be so fortunate against visitors Drumaness!
SECTION 3
Dungannon have yet to win their first league game of the season, but they couldn't have asked for a tougher game with the visit of Cooke Collegians. The Belfast team lost their top of the table clash with Millpark last week, but won't slip up this time if they are to keep their title aspirations alive. Meanwhile the league leaders should have a comfortable win over Newforge and Donaghadee should also win at home against Monaghan. Ards have struggled all season and the visit of Dunmurry will be another tough game, but they will target this match as one they can win and I expect a surprise on this occasion.
Above all, let's enjoy a weekend of good cricket.
Clarence Hiles
Editor