...at the recent North-West annual general meeting will have given his employers an initial vote of confidence on their appointment, but those that know the young Comber man well would have expected nothing less.
Ryan Haire is a breath of fresh air in this role and while the previous incumbent Brian Walsh did a good job, we can expect a much different and more hands-on approach from the new man.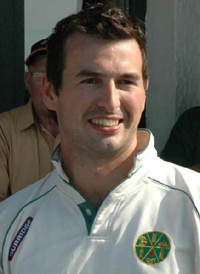 Ryan's credentials are excellent. He's arguably the most explosive batsman in NCU cricket, has played at the highest level for Ireland , has won virtually every honour in local cricket, and is academically well grounded. In addition, and what many people outside Comber probably don't know, is that he's been a dedicated and efficient coach at North Down and one of the driving forces behind the club's strong youth set up. Last year their under 13 team won the All Ireland Cup while most of the other youth teams performed admirably. Ryan's been a good learner and has worked closely with Taimur Khan and his well-known father Robin, both astute and capable coaches with a wealth of experience to pass on.
But Ryan brings much more than a strong cricket pedigree to the position, he's got fresh ideas and vision which he's not afraid to develop and promote. Now in his mid-twenties Ryan has the maturity and the enthusiasm to build on what has happened in the past, and to add his own enterprise and positive thinking. He's fully aware of the magnitude of the role, not least the challenges in the North-West where criticism of Belfast and Dublin hierarchy has been part and parcel of the region's cricket culture for over 100 years. But this is one guy who has the commitment and the charisma to mend old sores and to give a fresh impetus to a very important role in Ulster cricket. And he's got the full backing of former Irish Cricket Union president Gavin Craig who chaired the NICA selection process that made this exciting appointment; "We were not only impressed by Ryan's cricketing background but the vision and enthusiasm he had for the position. He was an excellent applicant and we were delighted that he accepted the appointment. A lot is expected from him and we've very confident he'll deliver."
That's high praise from one of local cricket's most experienced administrators and as a North-West man, Gavin is only too well aware of what is expected up the M2 from the new man.
It's a journey than Ryan Haire will be making all too frequently as he's fully aware that cricket throughout the Province is at an exciting threshold with the potential of new schools and more female teams sitting on the horizon after the media burst of Ireland 's cricket heroics in the Caribbean last season. He's not afraid of hard work and if his initial reception in the North-West is anything to go by, then there's a lot of support sitting in the wings about to assist.
Great start Ryan, let's create a new era in Ulster cricket development.