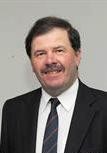 Give me some background…when did it all start for you at cricket?
I was always interested in cricket as my grandfather had played, and watched it on television. I joined the local club with some friends from school in the early 70's. I have played for and served as President, Chairman, Hon Secretary and am currently Hon Treasurer of Carrickfergus Cricket Club.
You have been a loyal servant of NCU cricket. How did you become involved at the administration?
I became involved with the NCU when I got my first job with Sun Life Assurance where Jim Boyce also worked. He was on the Divisional Committee at the time and persuaded me to volunteer as a league secretary, as the NCU were short. That was in 1975, and 5 years later Jim McMorran suggested that I should put my name forward for the Executive Committee. I have been there in all its guises ever since, and am still there 41 years later! I have served as Hon Secretary, Chairman, and am now honoured to have become the Union's President in a very exciting time for local cricket.
What was your biggest accomplishment on the field, and secondly off the field?
As anyone who played against me will confirm, I was not the most accomplished of cricketers, but enjoyed playing for Carrick's lower XI's for over 20 years. I suppose being the first captain of the newly formed 4th XI in 1984 and for a few years after that stands out.
Off the field, being part of the team that saw my club Carrickfergus progress from the lower reaches of Section 6 playing on sub-standard hired grounds when I joined, to moving to our own ground at Middle Road in 1988, and eventually reaching our goal of Premier League cricket in 2004 with facilities to match any club in the country. Seeing Ryan Eagleson progress from a 10-year-old schoolboy to becoming the first Irish international, and watching him play at Lord's also stands out. The appointment of our first overseas professional, the Indian Snehal Parikh in 1986 was pivotal to the development of players and progress of the club, and of course the brief time we had AB de Villiers at the club was unforgettable.
Outside of my own Club, my involvement with the management of the Belfast Under 14 side at the Inner Cities Cup at Arundel from 2001 to 2011 with my friends George Wilson and Colin Siller and later Andrew Cowden was very enjoyable both on and off the field. Winning the tournament in 2002 and 2005, and receiving a civic reception by Belfast Council in the latter year will never be forgotten. Many of the players who played for us over the years are still playing and it's always great to see them at various grounds.
Has Covid-19 spoiled your Presidency?
My Presidency has only really started, and making the Gallagher Challenge Cup draw was my first official duty. I hope things improve as I was not too popular at Carrick last week when I drew them away to holders CIYMS in the first round! Things appear to be slowly returning to normal, so hopefully it will not have too much of an impact, and functions such as the NCU Dinner and the Golf Day will be able to return later this year.
What plans have you in place during the season?
I will try to visit as many clubs as possible during my two years as President and meet the many volunteers who do such a great job in keeping our clubs going.
I hope we have seen the worst of Covid and will return to normal soon, and that we are able to play longer format matches by June as planned.
If the AGM and Annual Dinner are postponed, will you run for another year?
It's a 2-year term, so all being well, I hope to continue in the role until the 2022 AGM
What would be the highlight for your season?
It would be great to see the Knights winning one of the Interprovincial trophies this year, and from a personal point of view I would love to get the opportunity to present Carrickfergus CC with their first trophy at Premier level during my Presidency.
Any plans for post-Presidency?
I hope to continue my involvement with the NCU in some capacity. I'll probably stand down from the Board, but would be happy to continue to assist with various aspects of Domestic Cricket as required, in areas such as competitions, registrations etc. I am continuing as League Secretary for Robinson Services Senior League One this season.