Even in the twilight of a glittering, if at times controversial career, the colourful Laurelvale player remains a doyen in local cricket.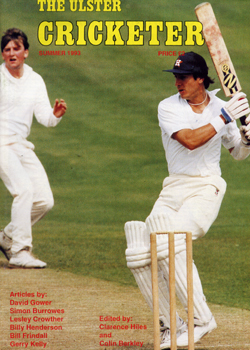 Charlie McCrum has done it all at the highest level in Irish cricket and he has the CV to prove it. Never one to hide his ability behind a bushel, he played with and mixed with the best and was never found wanting. His batting and bowling ability were fired with a determination and focus that few overseas professionals could match, and from an early stage in his career Charlie saw himself in their league. He became a much travelled player, but testimony to his brilliance is the fact that he played and starred in the best sides of his time and that included Waringstown, North Down and Lurgan in their prime. His travels took him to the North-West and he fitted like a glove into the combative atmosphere of senior cricket up the M2. In a way it complimented his game, as Charles loved a cricket fight and was never found wanting in the heat of battle. His match-winning performances in cup finals and top representative games set him apart from his peers and in tandem with his brother Paul, he was awesome. Charles loved opening the batting and bowling with Paul, and their performances together rank up with the best in the history of Ulsterclub cricket.
As professionals the McCrum brothers gave 100% on the field and looking back on their record in the past two decades has there been any better value for money?
Laurelvale is the current benefactor and while he's no spring chicken, Charles McCrum has shown in 2007 that he's got a lot left in the tank for the future. Scoring 852 runs he was almost 150 runs more than his nearest rival, and although he didn't top the wicket-takers table he was 5th and that was enough to top the all-rounders table.
Capped 22 times for Ireland and numerous times at interprovincial level, Charlie wasn't always the darling of administrators but his flare-ups had more to do with differences of opinion rather than anything more serious. He was never a trouble-maker and at the end of the day he backed his own judgement even when it came at a personal cost. That's the real measure of the man, a talented cricketer that confidently backed his own judgement throughout his career and everywhere he played he produced the goods for those who had similar faith in his ability.
The 2007 season has closed with a bevy of statistics and records but few will match the individual brilliance of this outstanding cricketer, whose name is up there with the best in the history ofUlster cricket.
Congratulations Charles McCrum on another magnificent performance.