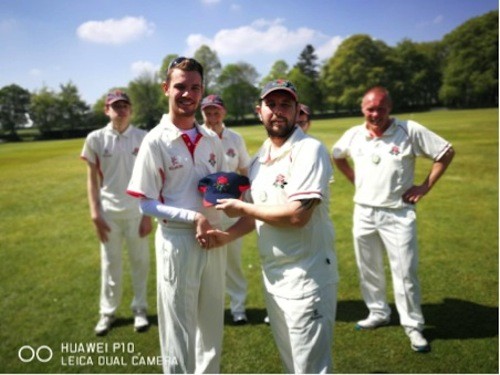 Muckamore cricketer Ollie Thorpe made his debut for Lancashire County Cricket Club on Sunday May 6th.
Thorpe played for the county's disabled team against Cheshire and won by 65 runs.
The 19-year-old, who bowls pace, claimed 1-21 off four overs and took the match winning catch.
Thorpe made comment on his achievement and said: "It was great to get out there and play and win the game for Lancashire.
"It was a childhood dream of mine to be a county cricketer and now that the dream has become a reality is surreal. Being presented with my cap and pulling on the Red Rose was a real honour and something that I look forward to doing again."
He joined Muckamore in 2012 and won the Under 15 league title a year later and played his part in the sides success.
He settled well at the club making many lifelong friends and is held in high regard by many across many cricket circles.
The club congratulated Thorpe by saying: "Everyone at MCLTC is hugely proud of Ollie's achievements and we wish him well for the rest of the season."
Thorpe, who was born Cerebral Palsy, struggled with the transition between junior and adult cricket so turned his attentions to umpiring, where he became the youngest ever umpire to stand in the Northern Cricket Union.
Since leaving for University in September, he has been training hard with the university's cricket club and began training with Lancashire following a successful trial at Emirates Old Trafford in February.
The Ballymena man took to social media to thank everyone for helping him fulfil his dream and said: "I would like to thank everyone who has helped me on my journey to earning this cap. Friends, family and all those at Muckamore Cricket and Lawn Tennis Club who have helped me over the years in many ways."
His next match will be on Sunday 20th May when Lancashire entertain Shrophire.