But that won't matter too much to the Blarney Army of Ireland supporters when they descend on Ocho Rios in a few weeks time for a World Cup adventure of much more importance. Columbus loved Ocho Rios, the host area for the majority of the traveling Irish, and the place where he returned nine years later and was 'marooned' for 12 months when he discovered his ships were full of wormholes.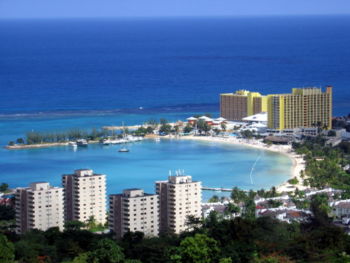 The beautiful Ocho Rios has it all; spectacular mountains, waterfalls, caves, tropical gardens, idyllic beaches, nightlife, brilliant golf resorts, and of course, the legend of Robert Nesta Marley, the king of reggae whose death 26 years ago has not diminished the popularity of his music. Bob Marley was born in a St. Ann village at Ocho Rios in 1945 and went on to captivate the world with his unforgettable reggae, poignant lyrics and prophetic messages. Sadly it ended in tragedy in 1981 when cancer removed the most famous face of Caribbean music, but not his soul, and Irish fans will have plenty of time to enjoy the legacy as Bob Marley lives on, morning, noon and night on radio stations and nightclubs all over the island.
Most of the Ireland supporters will be staying at Sunset Jamaica Grande, a sprawling 730-room all-inclusive on Mallards beach with spectacular views of sea and mountains. The number of travelling Ireland supporters varies from source to source but given that there are eight bars at the hotel it should be an easy task to find them during the first few days of the trip. Certainly there'll be few fans scurrying off to watch their heroes fine tune their final preparations in downtown Kingston given that the journey from the north to the south of the island could be as much as a three hour drive, depending on who you are driving behind. At least one travel brochure warns not to overtake 'unless absolutely necessary.'
My advice-leave early on match days!