...and some of them went to great lengths to improve their facilities to win the honour.
Big matches were seen as money spinners with lucrative bar takings adding the pot of gold to the enhanced status of being seen as an international cricket venue. Northern and southern delegates within the Irish Cricket Union vied with each other to get the best games, and for many years Dublin took the lion's share from Ormeau and Downpatrick, with the North-West getting only crumbs from the table.
The spin-off from this competition was a big improvement at some grounds and although former international venues like College Park , Rathmines and Ormeau, fell by the wayside, Clontarf, Downpatrick and Eglinton emerged as better venues to host international games. But then other factors came into the equation and it now appears that all the only grounds that measure up are Clontarf and Stormont.
But what makes an international venue?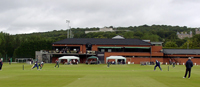 Doyen umpire Paddy O'Hara certainly opened a can of worms when he recently entered the debate on Stormont as the major northern venue with a list of complaints. Understandably the club reacted with an immediate rebuke but when the dust has settled and emotions cool down, Paddy's comments may not be too wide of the mark. Everyone knows the Civil Service North Club has gone to great lengths to improve its facilities, but they are a long way short of the standard required, not least when you are hosting test nations and charging high entrance fees. And therein lies the core of the problem.
Who takes the revenue, and who pays to improve grounds and provide all the facilities for these top games? The Irish Cricket Union certainly takes the money but for many years it has used clubs to host big games and let them pick up virtually all the major costs. So while Paddy may have very valid points, is it fair on the Civil Service North members to sponsor the Irish
Cricket Union as that's basically what hosting clubs are doing?
When all's said and done neither Stormont nor Clontarf can match the wickets at the Green in Comber, nor have they a setting to match Downpatrick, Waringstown or little Sion Mills, but they are clubs that are prepared to put in a lot of effort to host big games and no matter how well they perform, the critics will still have plenty of ammunition to shoot back at them.
As for atmosphere it's people that create atmosphere and it doesn't matter where you host a game because if two men and a dog turn up you won't have any atmosphere! The ICU has got to get people to support the top games and they won't do it with cheap promotions, limited facilities and high entrance fees.
Those days have gone and the sooner the decision-makers allocate sufficient funds to grounds like Stormont, bring their promotional act into the modern era and charge nominal entrance fees, the sooner they'll get bums on seats, and who knows maybe a bell for Paddy!