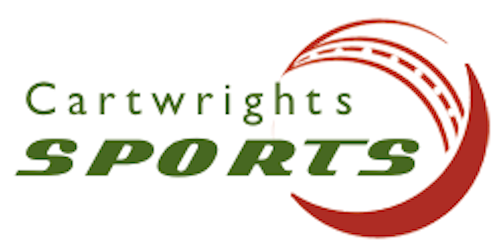 Cartwrights Sports Ltd is a family run business with over 40 years experience working in the sporting industry and they have recently expanded into Northern Ireland.
The Company is dedicated to offering the best advice and service to your Club on its cricketing requirements. Their aim is to build up a long and prosperous relationship with their customers offering a service catering for every aspect of the Club's cricketing needs. They see the relationships with Clubs as a two way partnership and are keen hear from any Clubs who are interested in working with them.
Cartwrights Sports development in Northern Ireland came about following Lion Sports merger with the Company at the beginning of 2014 and as Keith Cartwright, Managing Director, commented "Business has been developing very nicely since then."
Business is been driven forward in Northern Ireland by John Kerstens, the former Holywood 1st XI player and owner of Lion Sports and John is very keen to develop business in the North West cricket region and in the South of Ireland as well.
John would be happy visiting your club to discuss any cricketing requirements you may have. He can be contacted on 07812 203 281.
Cartwright Sports specialises in cricket solutions including:-
full installation and renovation service of artificial practice systems;
artificial wickets;
renovation and installation of grass wickets;
a wide range of net systems from single to multi bay systems which include mobile, socketed and mobile cages.
They also supply the industry leading cricket balls from Dukes but can supply you with a range of cricket balls as well as all the coaching equipment you will need as a coach.
Cartwrights Sports have also recently been appointed as the agents in Ireland for the Surridge range of cricket and off field clothing – more about that later – watch this space!!
In putting something back into cricket here in Northern Ireland Cartwrights Sports are the very proud sponsors of the Northern Cricket Union's popular Player of the Year awards voted for by the players themselves.
Visit www.cartwrights-sports.co.uk for more information.
Tel: 07812203281