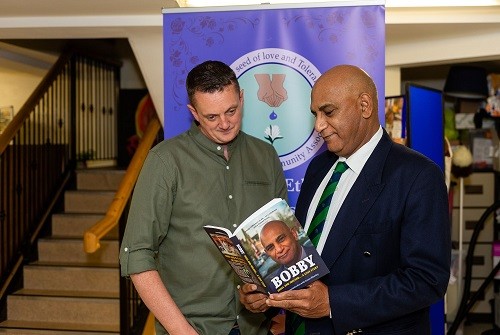 THE fascinating life of Indian Test cricketer and tireless community worker Bobby Rao is captured in a new book set to be released in the coming weeks.
'India and Ireland...A Love Story' is written by journalist Conor Sharkey and traces MV Narasimha 'Bobby' Rao's rise from the dusty streets of his native Hyderabad to his matching stride for stride legends such has Mohammad Azharuddin, Mike Gatting, Malcolm Marshall and Kapil Dev.
In 1978 and from a population of one billion people, Bobby was selected to play for his country. During a short but eventful international career he played four matches with India and was never on the losing side at Test level.
Domestically the pinnacle of his achievements came in 1987 when he captained Hyderabad to victory in the Ranji Trophy, India's premier national cricket tournament. It was a feat the state, despite its ferocious ability to turn out top level stars, had not managed in 50 years and which has eluded them since.
In the aftermath of the win Bobby set up St John's Coaching Academy, a school that has produced stars such as the great VVS Laxman and the current Indian women's captain, Mithali Raj.
What was supposed to be a brief spell in 1980 playing as a professional in Ireland turned out to be pivotal for Bobby. While coaching in Strabane he met and fell in love with Josephine McElroy. Seven years later the couple married and despite the champagne lifestyle that came with winning the Ranji Trophy, Bobby traded it all for a life in the border town.
During the 30 years he has lived here Bobby Rao has played for and coached the Irish squad. He has also helped develop the skills of many of the current international team, players like William Porterfield, Boyd Rankin, Niall O'Brien and Craig Young.
Since moving to Ireland the man from Hyderabad has also made it his goal to help those from foreign lands who have left their homelands in search of a better life.
After being at the wrong end of racial abuse in Sion Mills, Bobby established Strabane Ethnic Community Association, an organisation that has become a beacon of hope for thousands of families from all over the world.
In 2011 and in recognition of his community work, he was awarded the MBE by Buckingham Palace, the only Indian Test cricketer ever to receive such an award.
More than 30 years after moving to Strabane Bobby Rao continues to be a lightning rod for positive change in Ireland and every detail of his incredible journey is captured in his newly published memoirs.
"The book is the result of over two years of work between myself and Conor and it follows my life from my earliest days in Walker Town right up until this summer and the Covid-19 pandemic," said Bobby.
"The highs, the lows, the cups and the controversy, every detail of my journey has been left on the page."
'India and Ireland... A Love Story' (published by Hero Books) is on sale via Amazon and Apple today. It is also available to buy, priced £16, from many retail outlets including SuperValu Strabane, McFadden's Newsagents, Strabane and Universal Books, Letterkenny. To obtain a copy you can also message the Bobby Rao Biography Facebook page.