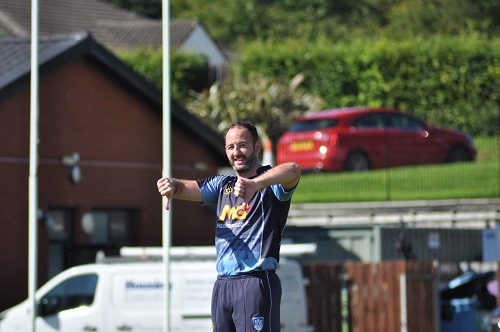 Muckamore have been given a real end of season boost with the news that Neil Gill will be playing for them next season.
Neil is synonymous with the Antrim based club having captained the 1sts in 9 different seasons, including winning promotion to the Premier League on three occasions as well as skippering the club to the Irish National Cup in 2012.
After the disappointment of being relegated at the end of the 2019 season by the narrowest of margins Neil wanted to carry on playing Premier League cricket and joined Carrickfergus CC where over the past two seasons, he carried on putting in credible performances as an opening bowler and middle to late order batsman. Carrick were obviously very keen to retain Neil for the 2022 season however the opportunity to help his boyhood club back to the top division made him decide to return to Moylena.
Neil said "I know many of the members at Moylena were angry when I joined Carrickfergus but at 32 years of age I still wanted to play against the best players. I have had two great years there and made many friends however now is the right time to come home. I look forward to supporting Sam Gordon as captain and to be back playing with the boys who grew up watching me.
I'm particularly looking forward to helping my young nephew Jude Keates forge a successful senior career. He's only 15 but has already played in the 1sts and is in the Ireland under age set up. My cousin Ian's son Arron is another one I'm looking forward to working with and hopefully I can help aspiring young quick bowlers such as Ewan Wilson and Aaron McKinley to achieve their potential.
I was delighted to hear the club are bringing back Avadhoot Dandekar as the overseas professional and that Simon Thompson an ex-1st XI captain will be joined in the coaching team by one of the best players I ever played with Brian Baguley. The boys have already embarked on a winter long fitness programme and I'm keen to join in with that. Helping the club back to the Premier League is my goal and then helping establish Muckamore as a Premier League club".
Incoming Director of Cricket Ivan McCombe said "When Neil texted to say he was coming home I was delighted. I've known Neil since he was a 10-year-old in our under 13 team and he always wanted to win. Him returning will give the whole club a lift. I've been talking to Neil for around a month about our plans not just for Senior cricket, but right down throughout all the teams. We have been proud of being the NCU club with the biggest participation (Muckamore field 6 adult teams in weekend cricket, 2 midweek teams and 2 Ladies teams), now we want to add performance to that with a "coaching for all" philosophy. Neil will work with our pace bowlers at all levels and we are using Steve Lazars to work with our spin bowlers. We also have big plans for our Youth cricket section as well as offering support to local Primary and Secondary schools "
Club President Ivor McMeekin said "We were sorry to see Neil leave and we are absolutely delighted he's back and hopefully he will play a leading role in the 1sts for another 10 years".