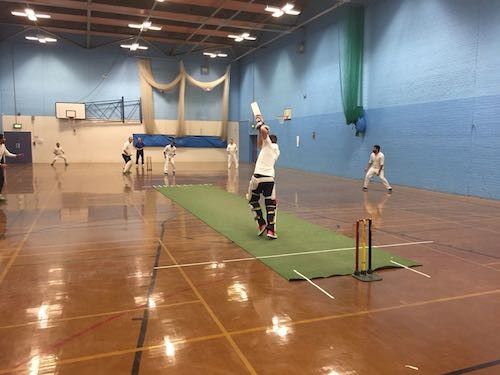 The inaugural Northern Cricket Union (NCU) Indoor Winter League commenced at Wallace High School in Lisburn. The competition is being run in partnership with Cricket Ireland through the Leinster Cricket Union's Peter Searson. Northern Ireland Association of Cricket Umpires and Scorers (NIACUS) are also assisting the league with Desmond Milne umpiring the first round of fixtures. Team and individual statistics are recorded so that players can monitor their progress throughout the league.
The opening fixture saw the Ulster Elks play the Dunmurry Dynamites. The Elks had a strong line up led by Cliftonville's Section 2 winning captain Matthew McCord, with household names such as Peter Eakin and Jonny Terrett also participating. McCord and Terrett both reached 25 not out to bring The Elks final total up to 116 for the loss of 3 wickets after 8 overs. The Dynamites in response were all out for 23 from four overs.
The Dynamites had another chance to pick up their first win as they took on Lisburn Lions in the second fixture of the evening. The Dynamites showed an improved level of performance as they totalled 42 all out from 6.4 overs. In pursuit of this target The Lions started well with Michael and Adam Glass making the most of the double points on offer for running a single. The Lions finished comfortable winners by surpassing the total in 5.5 overs.
The opening week proved to be a success with The Northern Knights head coach, Simon Johnston in attendance alongside former Ireland International and Regional Development Officer Nigel Jones. The Ulster Elks and Lisburn Lions meet next week in what promises to be a high quality match. Muckamore Mavericks begin their campaign against Dunmurry Dynamites, whose captain Prasanth Yalamanchili will hope for an improvement against the Mavericks side. To conclude the evening The Mavericks will play a rearranged fixture against The Academy Night Owls.