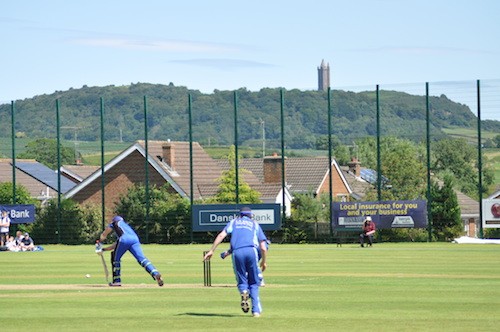 The NCU Cup Final was blessed with sunshine!
The weather was awful preceding the tournament, but lady luck answered the call and The Green was resplendent. What a pity more cricketers and spectators should have been there to enjoy.
CIYMS and Civil Service North provided a treat in the finale and NCU Officials had every reason to regard it as one of the best tournaments. Around 300 were in attendance, more than most cup finals, and sponsors Arthur J Gallagher added to the occasion with a strong following. NCU Secretary Bryan Milford, Chairman Andy Clement, President Peter McMorran and Vice-President Richard Johnson had every reason to celebrate because the admin worked like clockwork.
Also, full marks for the organization at North Down, and Paul Revill and Ray Moreland for providing a splendid pitch. Another attraction was the chip shop and the ice cream van. It hasn't been the weather for ice cream too often this season!
CI were clear favourites, but they suddenly plummeted for 3-1. However, the big guns were defiant and restored the initiative. At the end of the 50 overs they amassed 243-7 thanks to Messrs Kemp (68), Jones (51), Chambers (42) and a breezy 37 from Johnny Thompson. At this stage they were in the driving seats and a flurry of wickets enhanced their fortune. However, Getkate (64) and Van der Merwe were magnificent, although they were never likely winners until the latter stages.
Van der Merwe (98 no) was worthy of the missed century, but he still earned the victory for Stormont. Andrew Cowden was a delighted Captain, but perhaps not as much as the NCU President, albeit he was 'neutral.'
Well done Civil Service North and well done The Green.

ARTHUR J GALLAGHER CHALLENGE CUP FINAL
CIYMS 243-7 (N Jones 51, J Kemp 68, S Chambers 42, J Thompson 37, Z Rushe 22no, J Costain 2-27,
A Blain 2-73)
CSNI 244-5 (A Cowden 22, S Getkate 64, J van der Merwe 98no, G McCarter 25no, J Kemp 2-39)

CSNI beat CIYMS by 5 wickets

Man of the Match: Jason van der Merwe