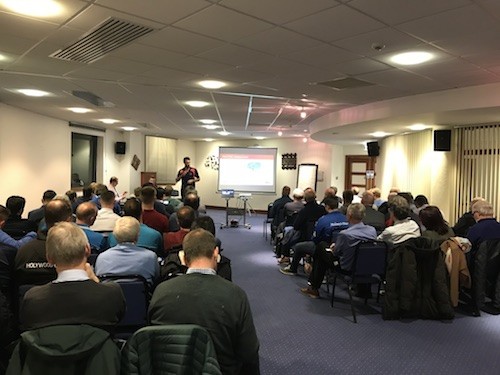 The Northern Cricket Union (NCU) invited all of their affiliated cricket clubs to a 'Club Forum' evening on Tuesday 14th November, 2017. It proved to be a great success with over sixty people in attendance representing twenty-seven cricket clubs.
NCU Chairman, Alan Waite, and the General Manager, Angela Platt opened proceedings with a talk entitled the 'State of Play'. They discussed the visa regulations and new developments on professional cricketers', as well as other relevant updates. NCU Development Officer, Simon Johnston, took the clubs through the Development Officer's 'focus clubs' for 2018, and the development support on offer to clubs.
The evening then split into two workshops. The first was run for club committee members, where Angela Platt discussed Cricket Ireland Facilities and Grant Opportunities. Angela urged all clubs to get in contact with their respective development officers to seek support and guidance when applying for grants. NCU Development Manager, Nigel Jones then went on to explain and discuss the Emerging Accreditation Scheme, and Safeguarding and Access NI. Each club had the opportunity to see their current position with the Emerging Accreditation and the process for completing the award.
The second workshop was run for club captains, players and coaches. This workshop focussed on the new major changes to the Laws of Cricket for 2018. This was expertly led by the Northern Ireland Association of Cricket Umpires and Scorers (NIACUS) members, Alan Neill, Joe Moore and Phil Thompson. An open forum followed for the players, captain and coaches to get advice from the Umpires on any issues or concerns they felt could occur with the new laws coming into force.
Both groups united to discuss the new youth playing formats proposed by Cricket Ireland for clubs and schools. This was led by The NCU Development Team, with the view to making changes to the current formats in order to cater for improved participation numbers in junior club cricket. NCU Development Officer, Callum Atkinson, finished the evening by giving a presentation on the NCU Summer Camp's and the NCU Mini Bash to be delivered at clubs next summer.
The Northern Cricket Union appreciates all who attended and engaged in the 'Club Forum' evening. If anyone would like any further information on the evening please contact your club's respective development officer.
Please note that there will be a number of club development workshops on offer in the early part of 2018 to assist clubs with pre-season governance and coach support. Further information will be made available via the NCU website (www.northerncricketunion.org), and through the NCU Development Team in due course: Regional Development Officer Nigel Jones, Active Clubs Co-ordinator Simon Johnston and Cricket Development Officer Callum Atkinson.